Iran Says 'Argo F*** Yourself' By Prepping Lawsuit Against the Best Picture Winner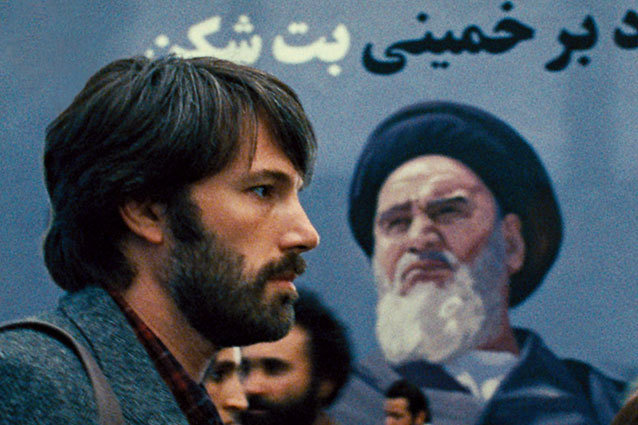 Time to throw out lame puns like "Ar-go lawyer up" and "Ar-go to court" because Iran has Ben Affleck's Oscar winner for Best Picture in its legal crosshairs. And the Islamic Republic's lawyers aren't just stopping there. A "Hoax of Hollywood" conference in Tehran on March 11 was intended to "unify all cultural communities in Iran against the attacks of the West, particularly Hollywood." Gathering culture ministers and film critics, the conference seemed to suggest that lawyers for the nation are prepping lawsuits against numerous producers and directors they feel are guilty of perpetuating "Iranophobia."
Though Warner Bros. has no comment about the matter, The Guardian reports that French lawyer Isabelle Coutant-Peyre, the wife and defender of notorious terrorist Carlos the Jackal, has been brought in to consult on the matter. "I'll be defending Iran against films that have been made by Hollywood to distort the country's image, such as Argo." Other films that may face a legal response are 300, The Wrestler, and 1991's Not Without My Daughter.
RELATED: Iran Didn't Like 'Argo' So It's Making Its Own Version
It's unlikely, however, the directors and producers of these movies have anything to worry about. Iran won't be able to bring its lawsuit to a U.S. court since there haven't been diplomatic relations between the two countries since 1979, the year of the hostage crisis depicted in Argo. But it is possible that the suit could be filed in another countries in which these films were also distributed. Presumably, the idea of "Iranophobia" will be translated into charges of libel. But for that to stick, Iran's lawyers will have to prove that the film's producers intentionally distorted facts to make Iran look bad, that it made negative claims that fundamentally were not true and with a conscious motive to do so. That's a tall order and one that rarely affects narrative movies, even ones that claim to be based on historical events. China has also considered suing over the representation of their nation in Hollywood films over the years but to no avail. Instead, they've learned to lobby Hollywood, instead—like when they successfully got the producers of the Red Dawn remake to change the villains of that movie from Chinese to North Koreans.
Iran has been cracking down on film in a big way of late, however. They've sentenced Iranian filmmaker Jafar Panahi to seven years of house arrest—which hasn't stopped him from making movies, like last year's acclaimed This Is Not a Film and his latest, Closed Curtain, which just won a prize at the Berlin Film Festival. They also boycotted the Oscars this year in the wake of the Innocence of Muslims debacle, despite the fact that the Iranian movie A Separation won Best Foreign Language Film last year. And before threatening legal action against Argo, the government loudly denounced it in the press. "We don't expect anything else from the enemy," Culture and Islamic Guidance Minister Mohammad Hosseini said after it won the Oscar for Best Picture in February.
Follow Christian Blauvelt on Twitter @Ctblauvelt
[Photo Credit: Warner Bros.] 
---
You Might Also Like:


Topanga's Revealing Lingerie Shoot: Hello '90s!


Stars Who Have Lost Roles For Being Too Hot (Celebuzz)