'Iron Man 3' Casts Wang Xuequi as Dr. Wu — PHOTO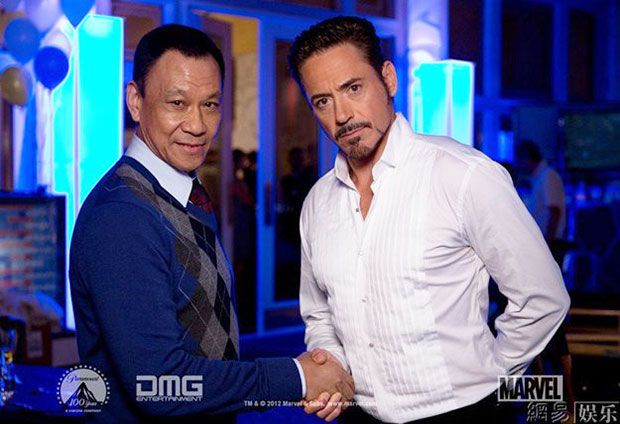 Given the bevy of new details coming out regarding Iron Man 3's filming in Bejing (which begins today, Monday), it comes as a surprise to no one that director Shane Black and Co. have nabbed a leading Chinese actor to portray the role of Dr. Wu. Wang Xuequi has been tapped to portray the new character, though previous speculation had linked Xuequi to the role of Radioactive Man, aka Chen Lu—originally thought to be played by actor Andy Lau, who later backed out. However, according to Deadline, Xuequi's role "is not a huge part" and seems unlikely to have ties to the aforementioned bad guy (only time will tell to prove or disprove this theory. Wouldn't want to spoil the fun of the film). Hollywood.com has reached out for comment, but did not hear back at the time of publication.
Wang's impressive career scope in China—where he is known as a Sean Connery of sorts—is yet another way in which this film's production is going increasingly multi-national. Prior to the announcement, Disney (Marvel's parent company) inked a deal for the film to be co-produced with Chinese company, DMG Entertainment. As a result of said deal, the film agreed to be partially filmed in China, with various elements of its story line embracing aspects of the nation's culture. This also seems to include some of its biggest stars—including Xuequi and the city of Bejing as a central fixture to the film's storyline. Overall, it's an incredibly business-minded move: because as box office revenue continues to lag in North America, China's movie ticket sales rose by one-third last year, making it a primetime audience for blockbusters the world over.
Set a year after the events in The Avengers, the film will see our favorite cocky superhero Tony Stark (Robert Downey, Jr.) going head-to-head with The Mandarin (Ben Kingsley)—an enemy who apparently has all sorts of reach and power, and is boundless in his abilities to get what he wants. The seemingly darker Iron Man sequel will follow Stark as he goes on an epic and harrowing quest to find out who destroyed his life. Sounds like a real test—and I don't meant one you get graded on at the end of the day. Danger at every turn! Life lessons and character development! It's going to be an entertaining and seemingly heroic ride, you guys.
Iron Man 3 is set to hit American and Chinese shores on May 3, 2013. What do you think about the latest developments? Let us know in the comments.
[Photo Credit: Marvel Studios]
Follow Alicia on Twitter @alicialutes
More:
China: Hollywood's New Favorite Producing Partner
'Iron Man 3': What Secrets Does the Trailer Reveal?
From Our Partners:

25 Things You Didn't Know About 'Aladdin' (Moviefone) 

50 Best Movies of 2012 — With Some Surprises! (Moviefone)