'Iron Man 3' Super Bowl Trailer: A Thousand Big Explosions (and One Looong Joke)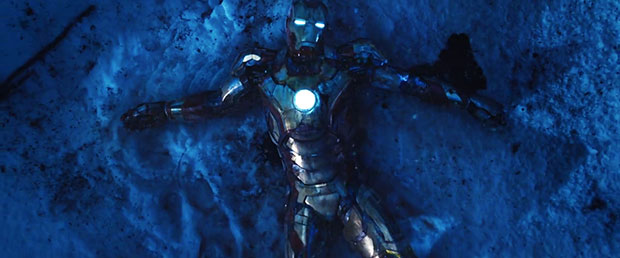 This past week, America was treated to a sneak preview of the Iron Man 3 trailer yet to debut during the Super Bowl XLVII. After seeing the fast-paced, explosion-heavy, action-packed preview, fans were likely to await an even longer, bigger, more exciting display from the Marvel threequel. But the new extended version of the video, which you can watch below, doesn't exactly kick off in the same fashion. Instead, the first half of the trailer is devoted entirely to a long, silent, one-off joke. But along with action and adventure is Iron Man the leading superhero film in the supply of dry wit. So, really, we're not gearing up for anything in the vein of a disappointment.
Following the extensive gag, Tony Stark takes the adrenaline up quite a bit. The tortured Avenger leaps from a crashing plane; his super suits explode one by one; villainy (in the form of Ben Kingsley) rises and good men (our hero Robert Downey, Jr.) fall. Check out the new trailer below, and catch Iron Man 3 in theaters on May 3.
[Photo Credit: Walt Disney Pictures]
---
You Might Also Like:

Biden? Ford? Surprisingly Hot Young Pics of Politicians

Who Wore This Crazy Hat?

Stars Who Changed Their Look After Love