'Iron Man 3' Trailer: Tony Stark Is Still Having 'Avengers' Nightmares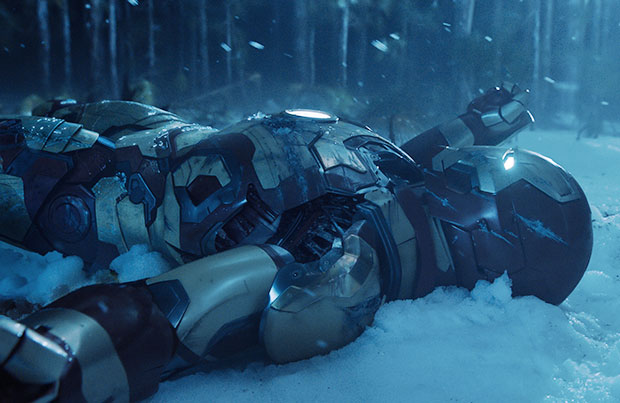 After months of teasing, Marvel has finally released the first official trailer for Iron Man 3. Don't expect too many plot revelations — the spot, much like the film's title, is big, bold, and light on details. Making up for the lack of insight? A bombardment of comic book action.
Iron Man 3 picks up after the events of The Avengers, with Tony Stark plagued by the memories of the New York City battle and suffering anxiety over the many people who want him dead (the price of being a superhero). His paranoia only lasts so long — turns out, people do want him dead and they're more than willing to fulfill their own wishes.
Robert Downey Jr. returns for a third installment of mechanic mayhem, this time with his Kiss Kiss Bang Bang director Shane Black at the wheel. (Black is also the writer of such action classics as Lethal Weapon, The Last Boyscout, and Last Action Hero.) Untested in the world of action blockbusters, the duo's rapport seems to have clicked here: Iron Man 3 looks sharp, kinetic, and even a bit terrifying. Downey Jr. appears to be giving an honest-to-goodness performance between explosions, Tony Stark's Iron Man lifestyle straining his relationship with assistant-turned-girlfriend Pepper Potts (Gwyneth Paltrow). The combined creepiness of smiling Guy Pearce and Ben Kingsley as the looming adversary "The Mandarin" send chills down the spine.
Check out the trailer for Iron Man 3 below. The movie hits theaters May 3, 2013.
Watched the trailer? Check out our complete breakdown to dig deep into Marvel's highly anticipated threequel.
Follow Matt Patches on Twitter @misterpatches
[Photo Credit: Marvel]
More:
'Iron Man 3': Tony Stark Has New Armor, But What Else? — POSTER
Comic-Con 2012: 'Iron Man 3' Footage Keeps Up the 'Avengers' Thrills
'Thor: The Dark World' Set Photos Reveal Fight Scenes and Epic Fantasy
From Our Partners:

Jaw-Dropping Actor Transformations
(Moviefone)

(Moviefone)