Iron Man Sends a Holiday Card: Stark the Herald Angels Sing! — PIC
It is this time of year when your mailbox becomes overstuffed with Season's Greetings — holiday cards from relatives, friends, coworkers, and every other tenuous offshoot of your social circle. And clearly, this painstaking tradition does indeed extend to those whose social circles consist entirely of time-traveling soldiers, otherworldly deities, genetically mutated behemoths, and rich guys with robot suits. Never one to let a moment pass without inputting his two cents, New York entrepreneur Tony Stark (whom many know better as Iron Man) has graced his friends, family, and fans with the below holiday card, in the spirit of the season: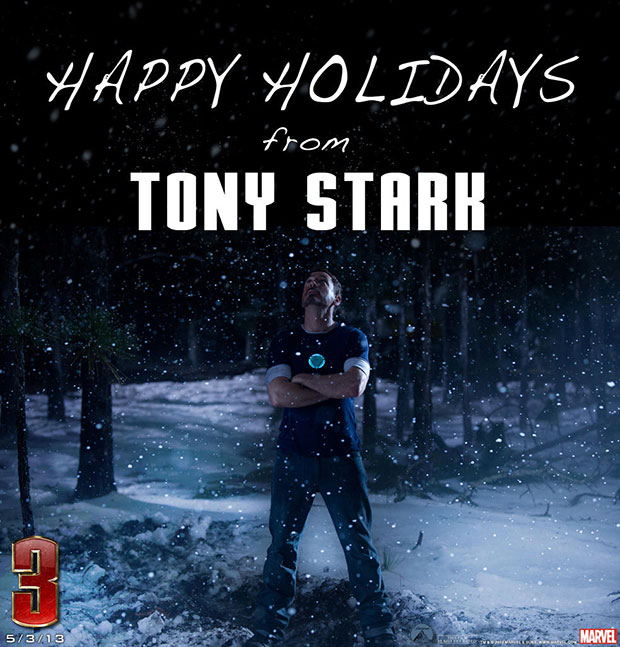 Employing a degree of brevity unique for the Avenger, Stark keeps his message short and sweet, offering no sardonic quips to the card's recipients. Still, the eloquence here far surpasses that which we might find in a holiday card from Captain America ("Have a Star-Spangled Christmas!"), or Loki ("Forget the Holidays… Celebrate Me!") or the Hulk ("Smash."). Plus, the brooding image of Robert Downey, Jr., glaring pensively at the Heavens works to make us wonder what sort of turns our hero will face in his upcoming film, Iron Man 3.
Stark's next chapter heads to theaters on May 3, 2012. But for now, have a Happy New Year — from all of us here at S.H.I.E.L.D.!
[Photo Credit: Marvel]
More:
'Iron Man 3': What Secrets Does the Trailer Reveal?
'Iron Man 3': Tony Stark Has New Armor, But What Else? — POSTER
Amazing Spider-Man #700's Crazy Ending: We Need Comic Movies This Insane

20 Hottest Bikini Bodies of 2012: Miley and More!