Is 'Anchorman 2' the Most Heavily Publicized Movie of All Time?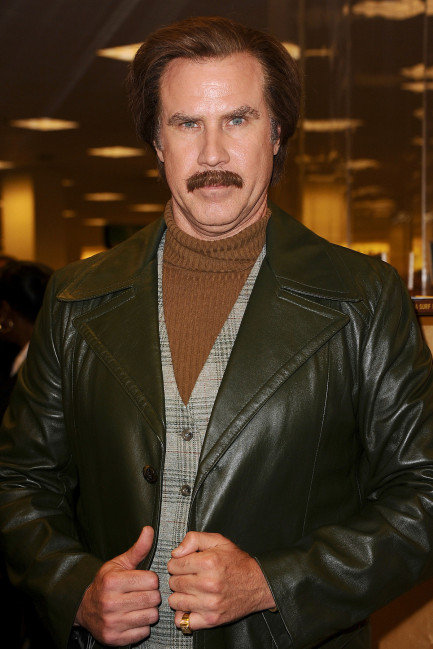 Jason LaVeris/Getty
No one can escape Anchorman 2. It seems that everywhere we turn (in real life and virtually), there's Will Ferrell in character as Ron Burgundy. In order to promote the sequel to the highly popular Anchorman, Paramount Pictures has created a world in which Ron Burgundy and his World News Center actually exist. By merging fiction with reality, it's easy to believe that we live in a world in which Ron Burgundy says "stay classy" on our TV networks. The few who haven't seen the ubiquitous original probably can't help but wonder about who this character is, and what all the hype is about.
It's hard to go anywhere on the internet without seeing videos of Will Ferrell sincerely making a fool of himself. The movie has released hundreds of custom videos for different situations. At the MTV Europe awards, they released a video of Daft Punk and Bugundy touring Amsterdam. Paramount Pictures has fully embraced social media in their promotional efforts, and they seem to really understand that people want their ads to be entertaining in themselves. 
There's also the much publicized promotional stint at Emerson College, where Ferrell visited in character. For one day, Emerson's School of Communication was named The Ron Burgundy School of Communication. Emerson even sent out a press release, complete with fake quotes from Burgundy. This is the sort of way that Emerson College would honor a real news anchor, and it's interesting that the school has chosen to participate in this promotional blending of fiction with higher education. 
Other stints of marketing include the recent Dodge partnership, in which Ron Burgundy advertises the new cars and an online competition to win a Dodge Durango. There's also his recently published memoir, a partnership with Washington DC's Newseum, an iOS game, and many, many more. Read more about the amazing marketing efforts at Adweek, and read a criticism of all the hype at Flavorwire. 
Will the movie, recently moved up to a December 18th release, attract a proportionate amount of viewers to its vast marketing campaign? Only time will tell. But it seems that nothing has matched the marketing surrounding Anchorman 2, and it's sure to influence the future of movie marketing.