Is Andre 3000's Jimi Hendrix Biopic Really Happening?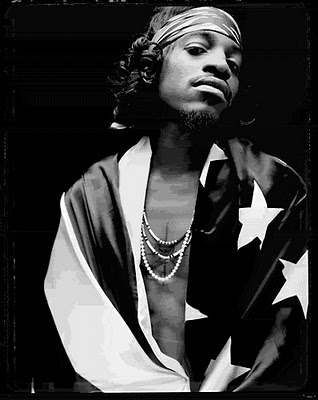 Poor Andre 3000.
Since 2004, Mr. 3000 (a.k.a. Andre Benjamin) has been attempting to use his musical influence to get a biopic of legendary guitarist Jimi Hendrix off the ground — but to no avail. Seven years have passed with barely a word of update from the hip-hop star, but his perseverance appears to have been going on silently, as an update has finally revealed itself via Captain America leading lady Hayley Atwell.
Atwell tells Esquire that her next project may be Benjamin's long-gesting exploration of the musicians career, which she describes as an "indie feature." While this is the first real word we've heard on the film's progress, don't take it as solid evidence that Hendrix will be rocking out on the big screen any time soon. Even Atwell has her doubts, following up her statement with a blurry, "…But I don't know, really. The Atwell team is like, Let's just wait and see…"
While Atwell is set to receive a major career boost with her turn as the kick butt military lady Peggy Carter alongside Chris Evans' super solider Captain America, it's been some time since we've seen Benjamin show off his thespian side. Previously starring in Be Cool, Four Brothers and 2008's Semi-Pro, the musician-turned-actor has been relatively quiet the last few years — perhaps he's waiting for the right guitar riff to wail back into the scene?
Captain America: The First Avenger hits theaters July 22, meaning Atwell's next project announcement should follow soon after.
Source: Esquire