Is Johnny Depp's Tonto in 'Lone Ranger' the Next Captain Jack, Kimosabe? — TRAILER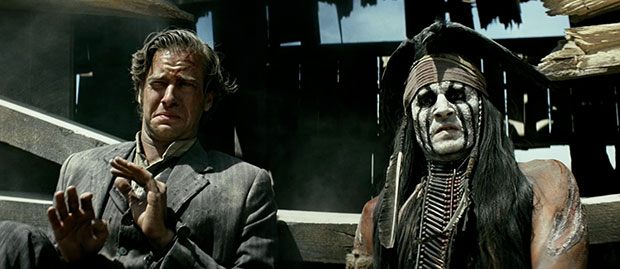 The first trailer for Pirates of the Caribbean team Gore Verbinski and Jerry Bruckheimer's blockbuster treatment of the classic serial character The Lone Ranger had a surprising lack of emphasis on the masked cowboy. Instead, the spotlight (as one probably should have assumed would be the case) was focused on the masked crusader's second in command, the Native American guide Tonto played by one of the last remaining A-listers, Johnny Depp. After hooking audiences into billion dollar grosses with his four Pirates movies and proving himself capable of carrying anything (even the maligned Alice in Wonderland), Depp was set up as the selling point of the epic Western — even if he was only a sidekick.
The Lone Ranger wouldn't work as The Johnny Depp Comedy Hour, but luckily, the second trailer for Verbinski's cowboy adventure makes it clear that the movie has more to offer. Armie Hammer gets his day in the high noon sun as the titular hero, chiseled and ready to deliver justice back to the Old West after being revived from the dead by Tonto. Verbinski looks back in Pirates form with some spectacularly executed, large-scale action, swapping pirate ships and swashbuckling for trains and horse chases without losing any of the thrills.
Unlike Captain Jack from Pirates, Depp's Tonto does appear to be a supporting player, filling us in on expositional details with his character's methodical, broken English. He's not playing Tonto for humor, but there's still a wink-wink feel to his performance. Whether he'll fall into caricature or form a real bond with Hammer's Ranger could make or break The Lone Ranger. Watching the duo kick down doors, derail trains, and outrun explosions will look spiffy, especially in the hands of a guy like Verbinski, but it'll be hard to swallow if everyone comes off as goofy.
Check out the trailer for the movie below and weigh in — does Lone Ranger have Pirates potential or is Depp just playing dress up with big budget action behind him?
Follow Matt Patches on Twitter @misterpatches
[Photo Credit: Walt Disney Pictures]
More:
Jack White Scoring Johnny Depp's 'Lone Ranger': Proof It Will Rock
'The Lone Ranger' Unmasks Sweeping New Teaser — TRAILER
Comic-Con 2012: Disney Surprises With 'Lone Ranger' Footage
From Our Partners:

25 Things You Didn't Know About 'Aladdin' (Moviefone) 

50 Best Movies of 2012 — With Some Surprises! (Moviefone)