Is 'Machete Kills' Dead? Lawsuit Might Doom the Sequel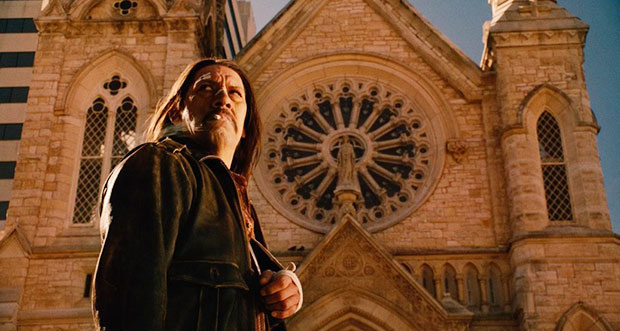 Legend tells of a gun-slinging, fast-riding, raspy voiced Federale who goes by the name of Machete. A renegade hero of the harsh Mexican terrain, there is just about nothing that can bring down this long-haired, perpetually scowling testament to human glory… except, maybe, a lawsuit. Machete Kills, Robert Rodriguez's developing sequel to his 2010 cult hit Machete, is facing a bit of legal trouble.
Overnight Productions has filed a lawsuit against Rodriguez's Quick Draw Productions in hopes of detaching the latter from production on Machete Kills. Both companies returned for the sequel after handling Machete, but Overnight wishes to terminate Rodriguez's right (granted via contract in April) to develop a second movie for Danny Trejo's crime-fighting character. Overnight is opening the suit on the grounds that Quick Draw has both "failed to meet a condition precedent to the grant of rights" and "failed and refused to provide the required budget information." You can read the full lawsuit here, courtesy of Deadline.
If Overnight's wishes do come to fruition, it could well mean the end of production on Machete Kills — worse yet, might we see a Machete movie helmed by someone other than Rodriguez? And with loss of this creative force, it wouldn't be unprecedented for any of the returning stars from the first film (including Trejo, Michelle Rodriguez, Jessica Alba) to opt out in a flare of creative protest. And of course, this only speaks of doom for the discussed threequel Machete Kills Again. Oh, Mr. Cortez, can't you save us?
Hollywood.com has reached out to Overnight and Quick Draw for comment.
[Photo Credit: 20th Century Fox]
More:
Amber Heard Gets All Up On Danny Trejo in Machete Kills— PHOTO
Jessica Alba Reveals Her Machete Kills Snapshots — PICS
Lady Gaga in Machete Kills: 3 Music Videos That Could Inspire Her New Role
From Our Partners:

Does 'Twilight' Win? Sexiest Vampires in Movie History (Moviefone)

'Star Trek' vs. 'Avengers'? Chris Pine Imagines
(Moviefone)