Is Security the Last Straw for Movie Theaters?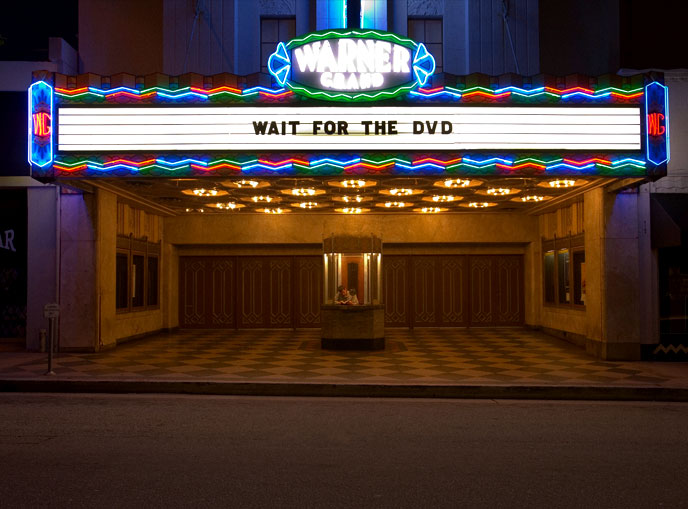 2011 ended on an unsettling note: Movie theaters across the U.S. suffered their lowest attendance rate since the post-9/11 period. According to Hollywood.com Box Office Analyst Paul Dergarabedian, total grosses for the establishments were down 4 percent compared to 2010. Solving the decline was the main topic of discussion at this year's CinemaCon, an annual convention for theater-owners, but the plausible solutions only complicated the matter. Astronomical ticket prices weren't changing, advanced technology continued to increase the costs of theater maintenance, and a full-blown multiplex civil war broke out thanks to a generational divide. (A proposition emerged from the National Association of Theater Owners to create "texting-friendly" auditorium sections, an idea that stirred many into a reasonable frenzy.) Adding more to the theatrical experience wasn't solving the main threat: home entertainment. Blu-ray, VOD, and Netflix were still theater chains' biggest threats. Summer blockbusters were a saving grace, but the fate of the theatrical experience never looked hazier than 2012.
Then out of nowhere, things got worse. The already fragile business model was thrown a curveball last week when a shooter entered a movie theater in Aurora, Colo., and took the lives of 12 patrons attending a midnight screening of The Dark Knight Rises. The event recalled moments in American history that felt unimaginably intrusive; until last Friday, the safety of a movie theater was never called into question. "[Security was] not a real big discussion," says Justin A., who runs a movie theater in the Upper Midwest. "If anything, we want to make sure people who bring in giant bags aren't sneaking in popcorn. We were never worried about weapons. Nobody thinks about weapons. If someone walks in with a giant coat, it's just a bunch of liquor they're trying to sneak in. That's been the extent — no one's really talked about it."
In the wake of the tragedy (which took place at a Cinemark theater), chains across the country voiced their condolences and support for the victims, while ensuring their customers that extra precaution was being taken to ensure similar events would not occur.
"Everyone at Landmark is stunned and saddened at this horrible tragedy in Aurora. Our hearts go out to the victims, their families and friends as well as everyone who was at the theatre. Guest safety which has always been of utmost importance will continue to be a major priority for us and all theatre operators. What was one of the world's most anticipated nights of movie-going has now been affected in the worst imaginable way. Although the media coverage naturally is focused on the shooter, it is the innocent victims and their families who we mourn for today.
The safety and security for our patrons has always been and continues to be our first priority in each of our theaters. Our managers and staff are being responsive to our customers and their needs." — Landmark Theaters
"We are deeply saddened to hear about this senseless tragedy in Aurora, Colorado.  Our hearts and thoughts are with the victims and families of this terrible event.  For the safety and security of our guests we are working with law enforcement in our local communities as well as the National Association of Theater Owners to review the security practices of Alamo Drafthouse locations."  — Alamo Drafthouse Cinemas
"We are profoundly saddened by the tragedy that occurred at a Denver area theatre and are concerned for the victims and their families. The security and safety of our guests and staff is always our number one priority. As is our custom, we will continue to monitor the situation and adjust our security needs as necessary. In the meantime, our thoughts and prayers go out to the victims and their families." — Regal Cinemas
(Regal also noted that stricter protocol would be put in place over costumes and accessories, but that details on their security measures would not be made public.)
Already dealing with the waning interests of customers, movie theaters now have a new level of comfortability on their hands. In 2011, it might have been an issue of leg space. In 2012, it's about feeling protected when the lights go down. Unfortunately, the prospect of creating that aura of safety is a steep, uphill battle. "There are so many doors in theaters, so many exits in auditoriums," Justin says. "It's really hard to monitor. [Theater chains] don't have security cameras in the theaters. There may be a few, but most don't. That's another invasion of privacy thing that customers might have an issue with." 
Lauren Swan, 22, of Rancho Penasquitos, Calif., is a former movie theater employee who has been on the ground during midnight screenings, with hoards of fans arriving incognito to pay homage to their favorite properties. She sees a need for security. What she doesn't see is a solution on how to secure the scene. (After all, chains won't be able to rely on local police patrolling outside theaters in the long term like they did this past weekend following the shootings.) "It would be very expensive to implement that security. So many theaters are having to up their prices to keep up. The one I worked at was practically going out of business, so finding the funds would be near impossible."
While theater profits are directly correlated to audience attendance, their major costs also come from the exhibition side — a point of concern when additional money for security enters the equation. Justin explains that "ever since the studios started pushing digital cinema, getting film out and putting digital in, everyone's had to put in a lot of money just for that upgrade." Movie studios do offer the theater chains perks (certain contracts offer theaters money for every print the studios don't have to make), but rarely is it enough to maintain solid business. "I know now a lot of theaters are hurting financially because of that," Justin says.
So what kind of security could a theater theoretically employ? David Stevens, Vice President of National Security Service LLC, says it could be a one-man job. "I think an armed guard on site would be sufficient," he says, looking at Friday's shooting for context. "[A guy] came in the emergency door at the back of the theater, so it would have been irrelevant if people were actually getting searched." 
At Stevens' rate, a theater could hire an unarmed guard for each theater at the price of around $25 an hour, while an armed guard bumps it up to $35. For a standard multiplex, housing around 13 screens, placing an unarmed guard in each theater for a 13 hours of operation (11am — 12pm) at $25 an hour could amount to around $4,225 a day, or $1,543,125 a year. Additional security staff and metal detectors — should the public or careful movie chains begin demanding them — only up the costs. 
The pricey additions could certainly be in the future if that's what it takes to win back patrons, but David Yorio, Managing Director of Citadel Security Agency in New York City, thinks a squad of guards may not be necessary. Instead, appealing to existing staff and audience members themselves to check their surroundings may be all it takes. "Be willing to react if something happens," he says. "Obviously, there is a list of things one could do if they were retrofitting a theater or redesigning their security. Being alert and aware — that's a major part of what we do is keeping out eyes open…. General surveillance is always effective."
Justin prides himself on the comfortability of his theater, a reason he doesn't fear the decline of the business one bit. But he also acknowledges the major problems that movie theaters face — both when it comes to security and their ability to entice customers with an enjoyable experience — stem from their staffs. "For a lot of people, a movie theater is a first job. So you have a lot of 15-, 16-, 17-year-olds coming in and they get to experience customer service — a pretty big rush for movies. But it is a little troubling that it's teenagers on the floor or in the box office. The older managers are secure in their office." Of course, training a staff to be aware is no easy task. "I think if we train our staff, talk to our staff about keeping their eyes open a little more… It's hard to say what to look for — you don't want to single people out because of the way they dress or the way they act. It's really difficult."
As a multi-million dollar industry, movie theaters may not need our sympathy, but it's also a business that now faces an even greater challenge. Theaters' noisy auditoriums and high-priced snacks have been keeping people at home with their high-definition entertainment systems. Why leave the protection of the couch when something disastrous could go down at a movie theater? Or have the painstaking, TSA-level process of a security line chew up hours of an evening? For Justin, there's a hope that the draw of a great blockbuster could outweigh the potential for future incidents. "I hope people see this as an isolated incident and as more information about this guy comes out, they'll start understanding who he was," he says. "We were worried for [The Dark Knight Rises], if it would affect our attendance, but we've been really busy. I'm sure [people are] concerned, but I think they want to see their movies."
Follow Matt Patches on Twitter @misterpatches
Additional reporting by Lindsey DiMattina
More:
Will People Head to the Theater for 'Dark Knight Rises?'
Seeing 'The Dark Knight Rises' Before and After the Tragedy
'The Dark Knight Rises': A Fitting Franchise Finale?
[Photo Credit: David Zaitz/Getty Images]