Is Tom Cruise Still a Box Office Star?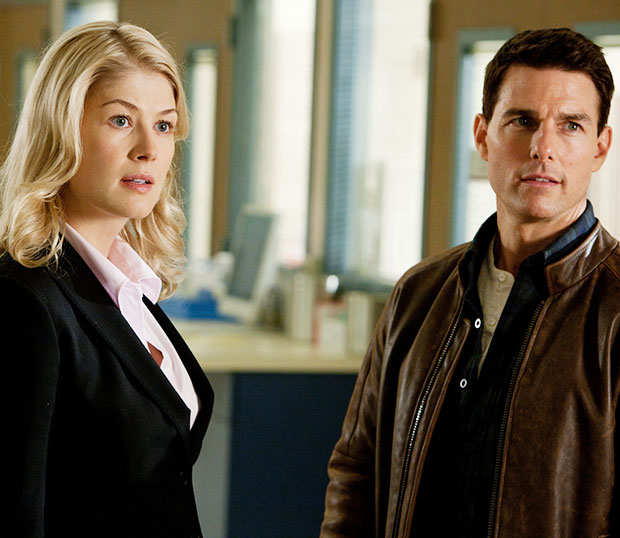 Tom Cruise: the very name conjures up immediate images of his many iconic roles: the young kid sliding across the floor in his underwear in Risky Business; the cocky fighter pilot Maverick in Top Gun; Vietnam vet Ron Kovic in Born on the Fourth of July; the sports agent with a conscience in Jerry Maguire; the exasperated brother of Dustin Hoffman's autistic savant in Rain Man; the high-flying hero of the Mission: Impossible franchise. And countless other indelible performances.
Cruise has long been identified as the very definition of a movie star and box office champion. But 2012 was not as kind to him as previous years have been. In 2011, the end of the year release Mission: Impossible – Ghost Protocol enjoyed a strong and steady performance in theaters. This past June, the musical ensemble comedy Rock of Ages opened in third place with barely $14.5 million. And this past weekend, Jack Reacher came in second with just $15.6 million. All in all, a far cry from the type of figures he used to put up on the board.
Let's look at some quick box office stats. Cruise has appeared in 37 movies since his first role in Endless Love in 1981. Of those:
— 21 have opened at No. 1.
— 17 films to earn over $100 million at the domestic box office!
— He had 5 consecutive $100 million plus earners, from A Few Good Men (1992) to Jerry Maguire (1996).
— He had 8 consecutive $100 million plus earners, from Mission: Impossible 2 (2000) to Mission: Impossible III (2006).
— His highest grossing film in North America is War of the Worlds (2005), with $234.3 million.
— He had an unprecedented streak of 15 consecutive No. 1 wide release debuts starting with A Few Good Men (1992) and ending with Tropic Thunder (2008)!
— His total North American box office revenues total nearly $3.5 billion!This is an incredible career track record, virtually unmatched by any other major star. Yet it appears that since 2007's Lions For Lambs (which opened in fourth place with $6.7 million), Cruise's career has not been the model of consistency that it was in the past. Of recent years, only Mission: Impossible – Ghost Protocol was a breakout hit, earning $209.4 million. Additionally, only one other film in the group of seven since 2006's Mission: Impossible 3 was able to crack the $100 million mark (the ensemble driven Tropic Thunder).
So what does this mean for Cruise? Is he " over"? Are audiences more interested in concepts than movie stars? What does the future hold for his career? Does the world only want to see him in Mission: Impossible movies?
These are all valid questions in light of the less than stellar results for his latest two films. However, lest anyone try to count Tom Cruise out, keep in mind that at age 50, he is as tireless and tenacious as anyone working in film today. It will be his next several projects — including sci-fi adventures like All You Need Is Kill and Oblivion — that may ultimately provide the answer to all of the above questions. At this point we are not ready to count Tom Cruise out. What do you think?
[Photo Credit: Paramount Pictures]
More:
The 'Jack Reacher' Formerly Known as 'One Shot': What Makes Movies Change Their Titles?
'Jack Reacher': Lee Child & Chris McQuarrie On Tom Cruise, Werner Herzog, and Cars
'Oblivion': Tom Cruise's Post-Apocalyptic Future Is Appropriately Glossy — TRAILER

20 Hottest Bikini Bodies of 2012: Kim Kardashian and More!