'It's a Small World' Songwriter Robert Sherman Dies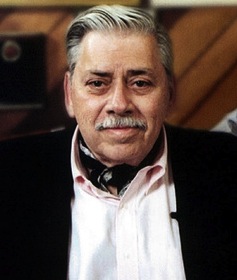 According to an update on his son's Facebook page, prolific composer/songwriter Robert Sherman, half of the famed Sherman Bros. duo, has passed away at the age of 86. Jeff wrote kind words yesterday evening as a word to Sherman's fans:
My Dad, Robert B. Sherman, passed away tonight in London. He went peacefully after months of truly valiantly fending off death. He loved life and his dear heart finally slowed to a stop when he could fight no more.
The son of another successful songwriter, Al Sherman, Robert began his music career early and began collaborating with Disney in the late '50s. His most famous working relationship spanned five decades and produced countless hits, toe-tapping tunes that kids and parents alike could sing in their (even today) in their sleep. In honor of the passing of this musical legend, here are five of Robert Sherman's most memorable songs:
"It's a Small World After All"
Originally penned for the 1964 New York World's Fair, the Sherman Bros. popular song became a permanent fixture at Disney theme parks across the globe, including Disneyworld in Florida, Disneyland in California, Tokyo Disneyland, Disneyland Paris and more.
"Supercalifragilisticexpialidocious"
Mary Poppins was obviously close to Robert's heart, the songwriter going so far as to pen a treatment for the feature film version (but was not credited). The Sherman Bros. wrote both the score and slate of songs for Mary Poppins, which earned them two Academy Awards in 1965. "Supercalifragilisticexpialidocious" stands out as both an exceptional display of their musical talents and the influence of their work—the word was later inducted into the Oxford English Dictionary.
"Chitty Chitty Bang Bang"
Robert Sherman's first non-Disney work came in the form of the 1968 fantasy film of the same name. The infectious songs in this Dick van Dyke musical garnered the duo another Oscar and eventually made its way to Broadway stages (which was also the case for Mary Poppins).
"Heffalumps and Woozles"
A song that will continue to haunt many of us who caught it as kids, "Heffalumps and Woozles" stands as one of the Sherman Bros. weirdest creations (while still maintaining their signature upbeat melodies). The song was featured in the 1977 short film assemblage The Many Adventures of Winnie the Pooh and, thanks to the longevity of Pooh and Co., as stuck around for eons. When a speed metal band like Powerglove is covering your songs, you're doing something right.
"Substitutiary Locomotion"
Bedknobs and Broomsticks may not be the most familiar Disney live-action/animation hybrid, but thanks to the moody, inventive songs by the Sherman Bros., it's certainly one of their most creative. "Substitutiary Locomotion" is a foundation for the movie's wild ride, which saw Angela Lansbury magically bringing inanimate objects to life for a grand dance number that only the Robert and Richard Sherman truly imbue with soul. David Tomlinson's Emelius has handy advice when Lansbury's Miss Price can't get her spell off the ground, and it's the wisdom of the Sherman Bros.: "As I always say, do it with a flare"
="font-style:>