'It's Kind of a Funny Story' iPod Prize Pack Giveaway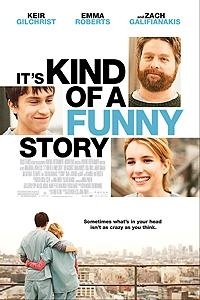 It's Kind of a Funny Story stars Zach Galifianakis, Emma Roberts and Keir Gilchrist and tells the story of a chronically depressed Brooklyn teen (Gilchrist) who checks in for treatment after contemplating suicide. Surrounded by the hospital's eccentric group of patients, he makes a psychological breakthrough. Check out the film's official Facebook page here.
To celebrate the release of this film, we've got a an iPod prize pack giveaway!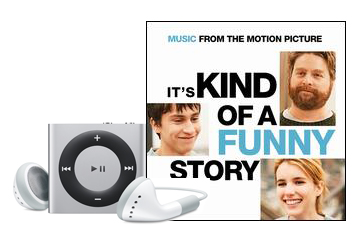 The Prize Pack
One (1) Winner will receive:
–         The new iPod Shuffle
–         Official Soundtrack (CD)
–         Zip Hooded Sweatshirt
–         Notebook
–         Dry Erase Board
How to Enter
1. Fan us on Facebook by clicking HERE and clicking 'LIKE' at the top of the page.
2. Click 'LIKE" on the It's Kind of a Funny Story Giveaway post.
Winners MUST be in the US Only.
We'll choose one random winner on Monday, Oct 11. That's all there is to it! Now get to it and good luck!