J.J. Abrams to Bring Valve's 'Half Life' and 'Portal' to the Big Screen?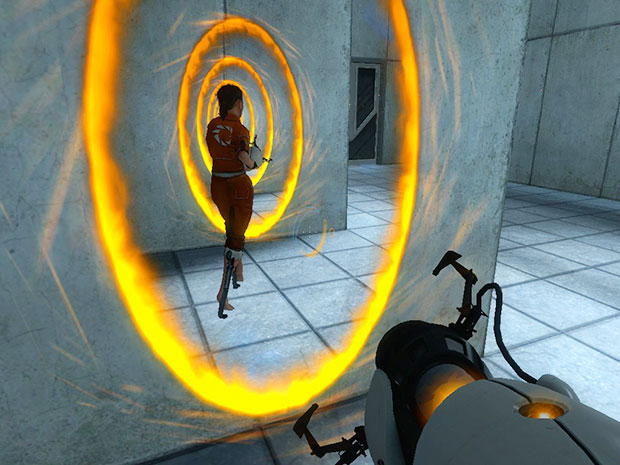 If there's one consistency that can be drawn from director J.J. Abrams' three feature films to date — his contribution to the Mission: Impossible series, his Star Trek reboot, and the homage to yesteryear's sci-fi adventures that was Super 8 — it is his unabashed celebration of fandom. Abrams has vocalized his love for the old properties that birthed these movies, and continues to wax poetic on the majesty of the Star Wars franchise, into which he will be stepping with a developing seventh episode.
But as we learned at the 2013 DICE Summit (a convention devoted to interactive entertainment), which took place Wednesday, Abrams' passions are not limited to any time, genre, or even medium. Abrams and Gabe Newell, co-founder of the Valve video game corporation, served as keynote speakers of the convention; the pair delved into Abrams' plans to develop his own video game, as well as the prospect of Half-Life and Portal movie adaptations.
RELATED: 'Star Wars' & J.J. Abrams: Superfans Bonnie Burton, Tracy Duncan, & Eric Geller Weigh In
The creative forces teased the projects towards the end of the half hour-long presentation. "There's an idea we have for a game that we'd like to work with Valve on," Abrams said, followed immediately by Newell's statement: "We also want to talk about making movies, either a Portal movie or a Half-Life movie." While Abrams' company Bad Robot was unable to comment to Hollywood.com on the status of such ventures, we wouldn't be surprised to hear about either.
Clearly, both Abrams and Newell are invested in one another's media, even if from a critical standpoint. Their DICE conversation opened with the men trading jabs about the merit of the storytelling inherent in movies and videogames, with Newell pointing out the lapse of an audience's involvement when it comes to film. Newell cited a clip from the Abrams-produced Cloverfield, taking issue with film's first person found-footage technique (in the scene, an unseen character' perspective acts as a vehicle to showcase the destruction overtaking the city). "I completely understand the narrative device you're using there," Newell said. "But put the camera down and f***ing run!"
Abrams combated Newell's point with a slight at the video game medium, wherein the designated story is readily put on the back burner in favor of action and gameplay. The pair traded arguments, highlighting examples from one another's work, such as Star Trek, Half-Life, not to mention Jaws, to sing the praises of their respective media.
RELATED: Bradley Cooper Is Not Lance Armstrong (and Other Lies My J.J. Abrams Told Me)
But past the good-natured ribbing, Abrams and Newell are clearly each interested in exploring new worlds. We can speculate what a J.J. Abrams video game would be like, and await its fruition with bated breath. And a Portal movie? That's a prospect worth getting your hopes up for.
[Photo Credit: Valve Corporation]
---
You Might Also Like:

 Adam Brody, Leighton Meester Dating?

'Smash' Crashes in Ratings: What Went Wrong

'Walking Dead' Tops Deadliest Shows: Exclusive