Why You're All Creepy-Excited for the 'Goosebumps' Movie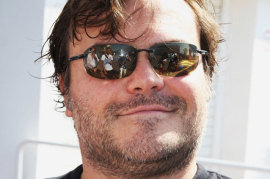 Visual/WENN
It's time for your inner child to freak the freak out. Before Harry Potter, before The Hunger Games, before Fifty Shades of Grey (yeah, I went there) there was a literary series like no other. R. L. Stine's children's horror books Goosebumps were wildly popular in the 1980s and '90s, and when the series spawned a television show, it was kind of a huge deal. Back in 1998, Tim Burton was attached to a Goosebumps film that never came to fruition, but now the project is officially back in the works. Burton is no longer directing, but we can think of five other reasons to still get creepy-excited about this.
The Jack Black Factor
As of right now, Bernie star Jack Black is in the midst of negotiations, and is expected to take on the lead role in the movie. Can you imagine Jack Black playing an R.L. Stine-esque writer, whose literary creations start coming to life in real and frightening ways? Yes, so can we.
The Monsters vs Aliens Director Is On Board
Rob Letterman is no Tim Burton, but this could actually be a good thing. The young director brought us (and, okay, our children) Monsters vs Aliens back in 2009, and since folks like Reese Witherspoon and Seth Rogen were on board that project, we expect he might pull out some heavy-hitters to join Jack Black on this one.
You Now Have An Excuse To Re-read The Cuckoo Clock Of Doom
Movies made from the stuff of childhood allow us to do the one thing we want to do pretty much every day —relive the magic. So head on over to Amazon and start pretending you're nine again. You'll feel so accomplished when you finish reading three whole books in 45 minutes. Then you'll have an excuse to watch some of the series on Netflix because – oh yeah – Goosebumps the series is on Netflix!
The Fast & Furious Producer Is Involved
Look, the truth is that Hollywood has been known to destroy…things. Lots of things. Literary classics, careers, and childhood memories have all suffered greatly at the hands of the big screen. However, we have high hopes for Goosebumps the movie, partly because Neal H. Moritz (the guy responsible for totally reviving the Fast & Furiousfranchise) is producing.
You Can Twitter-Stalk R.L. Stine For Updates
If you're not following R.L. Stine on Twitter right now, then what exactly are you doing? His bio reads: 'My job: to terrify kids.' And he's been tweeting updates about the movie as well as his other projects, his love for wheat thins, and Demi Lovato. It's awesome.
More:
'Goosebumps' To Give Us All Nightmares Again
Does Tim Burton Need Johnny Depp?
J.K. Rowling To Write A Harry Potter Spin-Off Movie
---
From Our Partners:


40 Most Revealing See-Through Red Carpet Looks (Vh1)


15 Stars Share Secrets of their Sex Lives (Celebuzz)