Jack Reynor Says Tribeca's 'What Richard Did' Is About Introspection, 'Transformers 4' Is About 'Blowing S**t Up'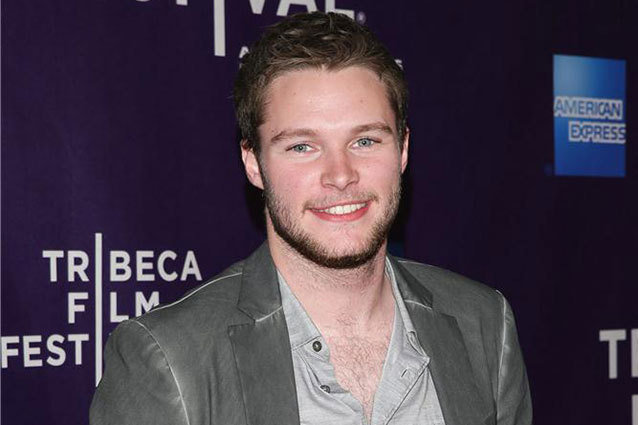 When Michael Bay saw What Richard Did for the first time, actor Jack Reynor wasn't on his radar. Now he's the star of the upcoming Transformers 4. Reynor isn't sure exactly what convinced Bay to take a chance on him.
"I'm not 100% certain. It's not something Michael and I really talked about. I'm a bit more, 'Yes, sir. No, sir,' with Michael. I just do what he says, take the job seriously, and get it done," Reynor says.
Having seen What Richard Did at the 2013 Tribeca Film Festival, we can clear the fog on why Reynor might be the perfect pick to star opposite Mark Wahlberg in the upcoming sci-fi sequel: he's absolutely brilliant in it. In the Irish film directed by Cannes vet Lenny Abrahamson, Reynor stars as Richard, a typical high school senior with a picture perfect life. He's got a lovely family, a great group of friends, a steady position as a soon-to-be-pro rugby player, and he's inching closer to a relationship with the object of his affection. Basically, Richard has it made — but he's modest about it. Abrahamson's film rolls along with tender care, naturalistic and familiar in all the right ways as his character invests deeper and deeper into his relationships.
"We spent a long time working on the movie before we shot it," Reynor says of the preparation. "We spent eight months workshopping and talking extensively about what kind of film we wanted to make. I think in those workshops, where we would talk about pretty much ever aspect of our lives, we came up with the most truthful story that we could."
Reynor describes Abrahamson as a "genius" who employed techniques that created the fluid, recognizable cadence to What Richard Did's scenes. What looks and sounds like off-the-cuff acting is more like guided improvisation. "In scenes where they're badgering back and forth with one another, we had topics we set up," Reynor says. "We wanted to make it improv, but controlled improv. So we had topics: school, girls… conversations where we didn't set the words. Key points that we needed to go to where we needed to pass the ball between each other very quickly."
Abrahamson also pushed the young actor to shade Richard with his own past. In one scene, Richard recounts the traumatizing event of accidentally killing a pet gerbil by drowning it in the toilet. Yeah, that was true. "That was my own personal story. I really killed that poor thing when I was five years old. Buried him in a shot glass," he says. Abrahamson didn't want a carbon copy of Reynor to stand in for Richard, but he was striving for reality. "I think Lenny would tell you as well, it's very difficult to take an actor and force them into a performance without making it feel a little contrived," the actor explains. "So Lenny wanted to bring the character to me. So we got an amalgamation of me and the character. There are definitely elements of myself that I invest into it. Which I think lends a lot of truth into it. But at the end of the day, Richard and I are very different people."
One of the toughest scenes — the kind of gut-wrenching moment that would easily make Reynor a must-have in the eye's of Bay — comes late in the film, as Richard grabbles with the devastating consequences of "what he did." The character's life is shattered and Reynor explodes in a fury of emotion. It works because Richard's never directly reminded of his past actions. Instead, they continue to haunt every second of his life.
"We decided to use this little trigger," Reynor says. "Richard wakes up and is instantly flooded with the thoughts of everything that's happened. It's about feelings. He feels this incredible shame and guilt and terror and it's an overload." The actor says that physicality played a bigger part in bringing the scene to life than any script note or "dramatic" angle did. "But it was very much about waking up and getting into a physical posture that allowed for it to be unlocked. It's difficult to explain, but it came physically more than mentally," he says.
Transformers 4 may sound like an entirely different animal than What Richard Did, but according to Reynor… well, it is. "With Richard, I was excited to make this film with such an amazing role for an actor. Play a wide range of emotion and really invest myself in the character," he says. "With Transformers, I'm going to get to drive fast cars and have a lot of fun. That's what appeals to me about it. I want to have as much fun as possible."
Reynor says that regardless of the scale or subject matter, his goal to be truthful never wavers. The director relationships are the real variable. For instance, the conversations he has with Abrahamson are entirely different than the ones he's had with Bay in these months before shooting the film. "With Lenny, we're talking introspectively about the human condition," he says. "With Michael, we're talking blowing s**t up."
As serious-minded as Reynor sounds, his defining quality (that is quite evident on screen and off) is a desire to enjoy the work, enjoy the people around him, and enjoy the moment. His character Richard can often be seen kicking back and sipping beer while chatting to his friends. Reynor is quick to answer if he himself has a brew of choice.
"Guinness, Guinness, Guinness, Guinness," he says before ruing the fact that'll he live in America for a majority of the Transformers 4 shoot. "I can't drink it here. It's terrible. What makes me so awfully sad is seeing them put Guinness in pitchers. You can't do that! That's terrible. You pour a pint of Guinness a certain way or it's not Guinness!" So while he's happy to be in New York City for Tribeca and revving up for Bay's next blockbuster, Reynor's looking ahead when he can return to Ireland. "When I get home after Transformers there'll definitely be a bit of drinking."
Follow Matt Patches on Twitter @misterpatches
More:
Will Forte Gets Dramatic at Tribeca
Chinese Reality Show To Cast 'Transformers 4' Actors
Tribeca's Horror Movie 'Dark Touch' Is Legit Horrifying
---
From Our Partners:


Eva Longoria Bikinis on Spring Break (Celebuzz)


33 Child Stars: Where Are They Now? (Celebuzz)