Jack White Scoring Johnny Depp's 'Lone Ranger': Proof It Will Rock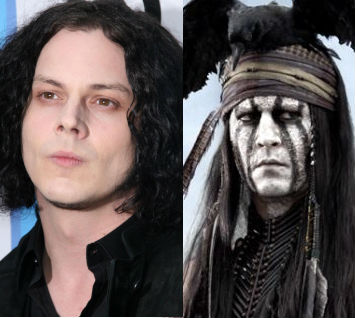 Always the one for experimentation, Jack White of the White Stripes, The Raconteurs and The Dead Weather, has been tasked with scoring the latest blockbuster from Johnny Depp, The Lone Ranger. Jerry Bruckheimer (Pirates of the Caribbean and every action movie you loved in the '90s) made the surprise announcement at this year's CinemaCon — perfectly timed with the release of White's first solo album, Blunderbuss.
The hiring White may sound like a stunt hire, there's plenty of reason to be excited. The man won't be the first musician-turned-composer (who can forget Danny Elfman former life as a member of Oingo Boingo?) and he enters the orchestration scene at a unique moment in Hollywood. After Nine Inch Nails frontman Trent Reznor picked up an Oscar for his work on The Social Network, there isn't a producer in town who would pass on a famed musician stepping up to the composing plate. And while White doesn't have any previous scoring credits to his name, his discography includes a handful of examples that prove he's fit for the job.
White's no stranger to cinematic songwriting. Back in 2008, the guitarist joined forces with Alicia Keys to pen the title track from the Bond flick Quantum of Solace. While not a milestone for the musically-infused spy saga, it did display White's ability to run with inspiration. 007 was the seed and "Another Day to Die" blossomed.
More applicable to The Lone Ranger potential was White's first foray into soundtrack history. For 2003's Cold Mountain, White performed a series of American spirituals, which he had the chance to sing in scenes of the film. Could the scoring gig land White a role opposite Depp? They could be brothers…
And while the record wasn't a solo White project, his work with Danger Mouse on the epic album Rome shows off the musicians ability to integrate himself into existing themes — particularly ones with Western ties. White leant his vocals to several tracks on the Spaghetti Western-inspired record, foreshadowing what we can expect from the final Lone Ranger score.
Find Matt Patches directly on Twitter @misterpatches and remember to follow @Hollywood_com!
More:
Dark Knight Rises News and More: 7 Things We Learned from CinemaCon
Johnny Depp's Long Road to The Lone Ranger
Pitbull's' Men in Black 3 Song 'Back in Time' Revealed