'Jackass 3D' gets extra gross at box office!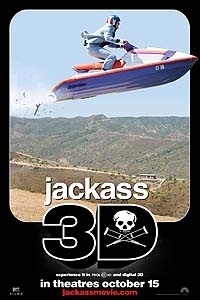 Paramount's 'Jackass 3D' earns a massive $22 million on Friday! 
Assuring the franchise its third number one debut with a one day figure that nearly equals the first 'Jackass's' number one total weekend box office of $22.8 million back in October of 2002, 'Jackass 3D' has exceeded all expectations.  'Jackass: Number Two' also opened at number one in late-September of 2006 with $29 million. 
With approximately 2,300 of the 3,081 theatres showing the film in 3D, the "in your face" factor provided by the technology was clearly the key the movie's unprecedented success.  An incredible total weekend gross that could wind up in the mid-$40 million range will make this the biggest 'Jackass' of them all.
Top 10 October Opening Weekends
Film                                       Opening Weekend          Opening Date
SCARY MOVIE 3                             $48,113,770                       Fri, 10/24/03
SHARK TALE                                  $47,604,606                       Fri, 10/1/04
HIGH SCHOOL MUSICAL 3              $42,030,184                       Fri, 10/24/08
GRUDGE, THE                                $39,128,715                       Fri, 10/22/04
RED DRAGON                                $36,540,945                        Fri, 10/4/02
COUPLES RETREAT                       $34,286,740                       Fri, 10/9/09
SAW III                                           $33,610,391                       Fri, 10/27/06
WHERE THE WILD THINGS ARE     $32,695,407                       Fri, 10/16/09
SAW IV                                          $31,756,764                       Fri, 10/26/07
SAW II                                            $31,725,652                       Fri, 10/28/05