'Jackass 3D' Kills It with $50 million!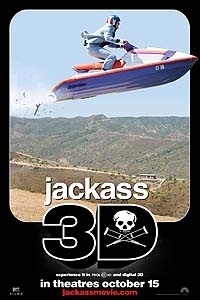 Whereupon we recognize the genius of the jackasses….
Paramount's 'Jackass 3D' catapulted itself like a port-a-potty into outer space with an unbelievable $50 million for the weekend and the best October opening ever!  After posting a $22 million Friday gross (and then $16.9M Sat./$11.1M Sun.) (nearly double that of the $11.6 million earned by "Jackass: Number Two" on its first day), the film was obviously the hot movie to see all weekend long and with 3D enhanced ticket prices, was scatological miles ahead of the nearest competition.  The film also generated the second best ever R-rated comedy debut (behind only 'Sex and the City: The Movie' w/$56.9M), the 9th best R-rated opening of all-time and the biggest opening weekend since 'Inception' ($62.8 million) in mid-July.  Perhaps this means the future of 3D will depend on genre movies, over-the-top comedies and horror films that give a greater three-dimensional bang per buck than films utilizing more subtle and immersive uses of the technology. 
Check out our exclusive "Jackass 3D" themed comic strip from Francesco Marciuliano.  Francesco writes the internationally-syndicated comic strip "Sally Forth" and the webcomic "Medium Large." He was the head writer fo

r the PBS series "SeeMore's Playhouse," for which one of his episodes won two 2007 Daytime Emmys. He currently writes for the Onion News Network.
Featuring Johnny Knoxville, Bam Margera, Steve-O, Chris Pontius, Ryan Dunn, Jason Acuna (Wee Man) and derived from the outrageous MTV show, the first film was a surprise hit in 2002 when it opened at number one over the weekend of October 25 with $22.8 million and went on to earn $64.3 million at the domestic box office.  The second film was an even bigger hit when it opened on September 22, 2006 with $29 million in its first three days, yet another number one debut and a domestic total of $72.8 million.  It's getting increasingly difficult to call these guys Jackasses when they seem to have a total understanding of the vomitous taste of the average moviegoer.  Add to that the obvious fun of watching this film in the communal theatre environment, plus the novelty factor of the 3D which brings the gross-out quotient to an even higher level and we are talking about a perfect box office track record that ranks pound for pound with the Pixar films, the oeuvre of Tyler Perry and the Harry Potter franchise. 
In second place with a respectable $22.5 million, Summit Entertainment's 'RED' takes a page out of 'The Expendables' playbook with an all-star ensemble cast, action galore and enough comedic elements to have given the film broad based appeal.  Bruce Willis, Morgan Freeman, John Malkovich, Mary-Louise Parker, Helen Mirren and Richard Dreyfus round out a very diverse, though somewhat unconventional cast for this type of action film.  A strong Saturday hold showed that word-of-mouth was strong for the film as older audiences embraced their quinquagenarian heroes.
In third with another $11 million and a very sweet 29% third weekend hold is Sony's 'The Social Network' which continues its terrific run, hitting the $50 million mark on Wednesday after just 13 days of release and is now at $63.1 million after just seventeen days in theatres as it continues to generate strong word-of-mouth, draw critical accolades and awards season buzz.  Jesse Eisenberg, Andrew Garfield and Justin Timberlake star in the compelling tale of the formation of, and the battle over the social networking juggernaut that we know as Facebook.  A eventual $100 million plus gross (a terrific multiple of its $22.5 million opening weekend) is in the proverbial cards for this fall season hit.
The second weekend of both Disney's inspirational true life horse racing drama 'Secretariat' and Warner Bros.' romantic comedy 'Life as We Know It' put them in a dead heat at $9.5 million and $9.2 million for the fourth and fifth positions in the weekend derby as the horse racing movie showed real "legs" with the smallest second weekend drop of the year for any wide release film of just 25%.
Warner Bros.' 'Hereafter' earned an impressive $231,000 in just 6 theatres for a per-theatre average of $38,500.  This portends a strong wide release debut for the Clint Eastwood directed film starring Matt Damon this coming weekend.
Last year's comparable weekend was incredibly strong with the debuts of 'Where the Wild Things Are' ($32.7 million), 'Law Abiding Citizen' ($21 million) and the first wide release of 'Paranormal Activity' ($19.6 million), but even with the strength of 'Jackass,' we were unable to top last year's overall tally.  Next week comes the first wide expansion of Warner Bros.' "Hereafter" and the debut of Paramount's "Paranormal Activity 2."
Weekend Box Office
Top 10 Movies – Weekend of October 15, 2010 (Estimates)
Movie Weekend Total
1. Jackass 3D (R)$50.0 M  $50.0 M
2. Red (PG-13)$22.5 M  $22.5 M
3. The Social Network (PG-13)$11.0 M$63.1 M
4. Secretariat (PG)$9.5 M  $27.5 M
5. Life As We Know It (PG-13)$9.2 M  $28.9 M
6. Legend of the Guardians: The Owls Of Ga'Hoole (PG)$4.2 M  $46.0 M
7. The Town (R)$4.0 M  $80.6 M
8. My Soul to Take (R)$3.1 M  $11.9 M
9. Easy A (PG-13)$2.7 M  $52.3 M
10. Wall Street: Money Never Sleeps (PG-13)$2.4 M  $47.8 M