Jackie Robinson Biopic '42' Takes Us on a Trip to the Deep South… of Brooklyn — TRAILER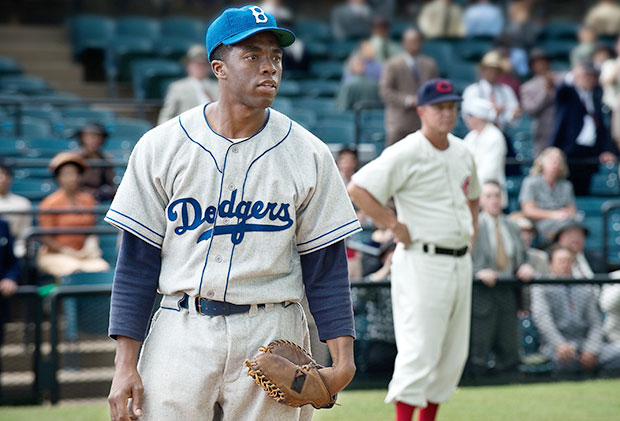 In translating the story of a historical time period to the big screen, a filmmaker is charged with a very interesting choice. Does he or she opt to look at the era through a nostalgic lens, painting a faraway picture of a time now inscribed with retrospective connotations? Or is the material better served with an air of presence, with the audience transported into a setting to which they can relate despite contextual differences? From the looks of the new trailer of the Jackie Robinson biopic 42, writer/director Brian Helgeland opts for the old-age feel in delivering the account of the civil rights icon and baseball legend.
A recent example of the other mentality is Steven Spielberg's Lincoln, nominated for a Best Picture Academy Award, which offers its title character and mid-19th Century backdrop a lively, modern feel, transporting audiences into the action all the more effectively. That doesn't necessarily mean that 42 can't thrive with the alternative vantage point, but the latest trailer feels like its clawing at a few old tropes for Robinson's story. Despite taking place largely in Brooklyn, the atmosphere is vividly Deep South, right down to the aesthetics of the scenery and accents of just about every one of the featured characters. It might be easy to associate this sort of milieu with the anti-progressive mood the film intends to establish, but that doesn't mean this connotation should be propagated.
In any event, 42 does look like an energetic picture, and one with a spirit for upholding the crusades of the pioneer that was Robinson. Check out the trailer and share your thoughts.
[Photo Credit: D. Stevens/Warner Bros]
More:
2013 Oscars Nominate Only 9 for Best Picture: Which Film Should've Been the 10th Nominee?
'42' Star John C. McGinley on 'Burn Notice,' Broadway and Life After 'Scrubs'
Hugh Jackman, Jennifer Lawrence, Naomi Watts & More React to Their Oscar Nominations

Megan Fox's 12 Hottest Moments (Moviefone)

Ryan Gosling's 'Airbrushed' Abs: Plus 19 More Reasons We Love the Actor (Moviefone)