Jaden Smith is Looking More Like Will in New 'After Earth' Image
They say the apple doesn't fall far from the tree, and when your Dad is the biggest movie star in the world there's a lot of truth to that metaphor. Jaden Smith began to follow in his father Will's footsteps early in his life, first appearing on the big screen in 2006's The Pursuit of Happyness. He followed that up with a role in 2008's The Day the Earth Stood Still and then the blockbuster revamp of the The Karate Kid in 2010. He's now back in the business of sharing frames with the elder Smith, currently in Costa Rica shooting M. Night Shyamalan's After Earth. Though we've seen a few production stills courtesy of the director and star, Jaden is now sharing some assets with the masses.
The young actor uploaded an image that looks like it could be an official still from the production via Who Say, and it shows him in a sleek costume that appears to be a cross between the Bat-suit and Spider-Man's friend/foe Rocket Racer's get-up. I'm liking the clash between the organic environment against the futuristic body suit, and one must also note how closely Jaden is beginning to resemble his father. There could very well be a new action icon on the way sooner than you think.
After Earth is set to hit theaters on June 7, 2013.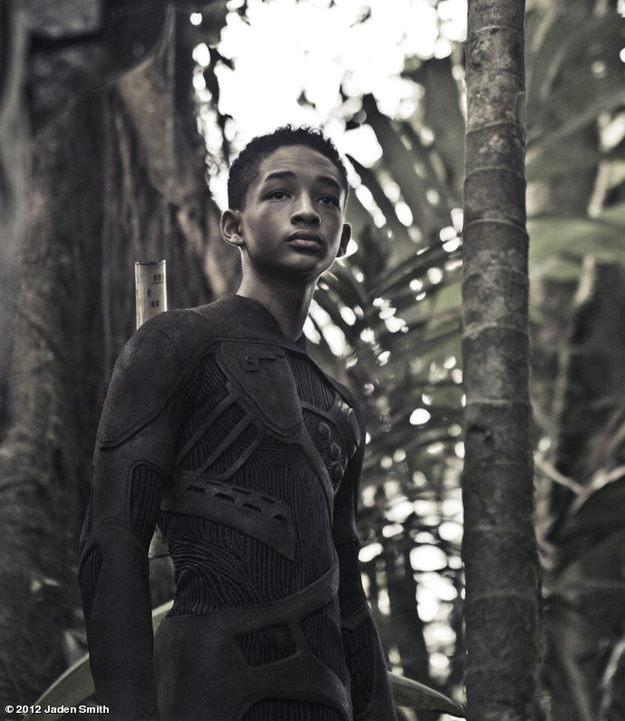 Source: Jaden Smith via Who Say