James Cameron To Direct Angelina Jolie In 3D 'Cleopatra' Biopic?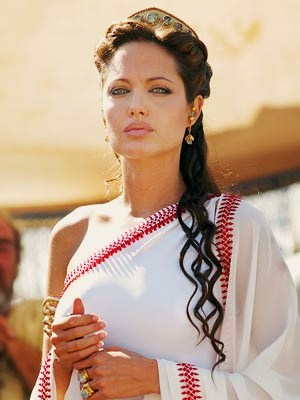 When it comes to James Cameron, valedictorian of the "Go Big or Go Home" school of filmmaking, any news is Big News.  So we're pretty excited to hear that the Avatar director is in talks with Sony Pictures Entertainment to "explore the very real possibility" of directing Angelina Jolie in an epic 3D Cleopatra biopic, based on author Stacy Schiff's upcoming book Cleopatra: A Life.
While the talks are "serious but by no means conclusive" (Cameron still has several of his own projects to think about, including The Dive and his in-development Avatar sequel), the Cleopatra project already has a lot going for it.  Jolie is firmly on board (the part is being developed for her), and screenwriter Brian Helgeland's adaptation is being called "a brilliant script deserving of epic treatment."  Oscar-winning producer extraordinaire Scott Rudin (The Social Network, There Will Be Blood), who first acquired the rights to the Schiff's book, would produce.
Sony wants to begin production in 2011, but everything will hinge on whether Cameron – a notoriously difficult director to work with – decides to commit to the project.  Either way, Cleopatra won't come cheap: studio Co-Chair Amy Pascal is saying this will be her Gone With the Wind epic.
Jolie, for her part, has dreamed of playing the 1st century (BC) Pharaoh for years.  The 35-year-old actress has had "a life-long fasciation with Cleopatra," and recently told reporters "I haven't done a historical epic of that nature, and she's always been fascinating to me because I feel like, as much of her story has been done big, it's never been done accurately."

"Not that any movie can get history perfectly well," Jolie conceded.  "There is no universal truth to history in some films, but you can get closer and I feel there's a lot that has been unexplored about her.  But there's a lot that would have to come together for that to work."
As far as historical accuracy is concerned, Jolie is "physically the perfect look," says Cleopatra author Stacy Schiff.  "Angelina Jolie radiates grace and power, exactly the qualities that Stacy Schiff finds in her biography of the most intriguing ruler who ever lived," publisher Michael Pietsch told reporters.  And Brad Pitt wouldn't be bad as lover Mark Antony, both Schiff and Rudin have suggested – a bit of casting we'll heartily endorse as long as Pitt agrees to be less wooden than he was as Achilles in Troy!
Again, nothing is confirmed at this point, but it certainly looks like the stars could be aligning to make Cleopatra a reality.  We're pretty excited about this one, so stay tuned to Hollywood.com as more updates on James Cameron and Angelina Jolie come in.
Source: Deadline