James Cameron to Shoot Two 'Avatar' Sequels in 2013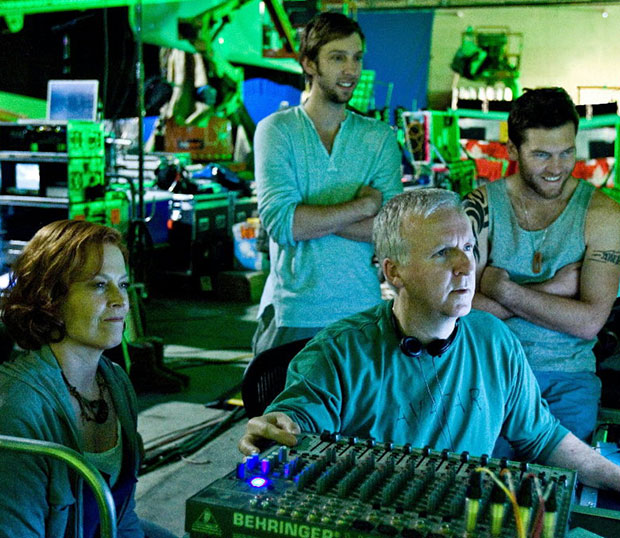 Looks like James Cameron just loves to sneak in little scoopy bits into his interviews. Turns out the Avatar writer/director is on-track to begin filming the two sequels (Avatar 2 and Avatar 3 for those keeping score) in 2013. While speaking to the The West Australian at the Wellsland, New Zealand premiere of The Hobbit: An Unexpected Journey, he dropped in a casual mention about his intentions. Way to bury the lede, dude.
Cameron, who owns a farm in New Zealand (guess that's why he surprised everyone by showing up), said he was on the property working on the scripts for the sequels, complaining: "Unfortunately it's too damn distracting because it's so beautiful" to write. That said, he explained that he hoped to have the scripts completed by February, in time for filming to begin filming by the end of next year.
"I want to get these scripts nailed down, I don't want to be writing the movie in post production," Cameron explained. "We kind of did that on the first picture, I ended up cutting out a lot of scenes and so on and I don't want to do that again." Yeah, seems like having a movie fully written before going into post production would be a good thing. Decidedly easier. Especially when doing a movie as epic and seemingly expensive as this one, eh?
Hollywood.com has reached out for comment, but did not hear back at the time of publication. What do you think about the newest Avatar news? Excited for the sequels? Sound off in the comments!
[Photo Credit: 20th Century Fox]
Follow Alicia on Twitter @alicialutes
More:
Is The 'Avatar 4' Speculation Premature?
'Avatar 2': What We Know So Far
James Cameron's Post-'Avatar' Sequels Plan: Details on His Alien-Free Thriller
You Might Also Like:

Cory and Topanga Are In! Big 'Boy Meets World' Spinoff News