James Franco Proves His Pretentiousness in 'Man of Steel' Review and 'Amazing Spider-Man' Bashing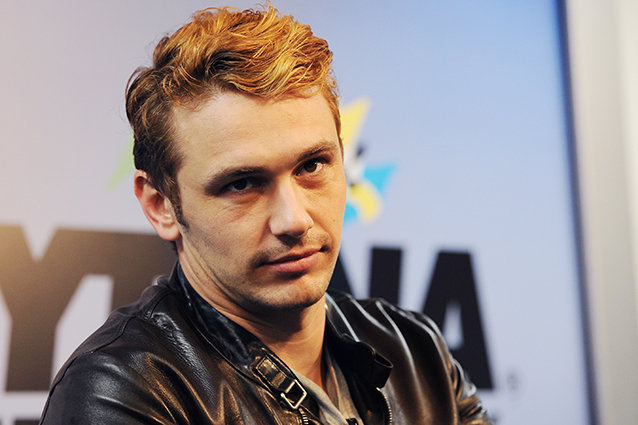 When it comes to James Franco, we tend to find ourselves feeling quite torn about our opinion. On the one hand, he's Daniel from Freaks and Geeks, Saul from Pineapple Express, and many of the other lovable screw-ups who have a special place in our hearts. He's the actor who captivated us with his gut-wrenching performance in 127 Hours. He's the obvious choice to star in a biopic about the enigmatic Jeff Buckley (seriously, folks, when is that one actually going to happen?). Still, on the other hand, James Franco seems to have mastered the art of coming off as a pretentious tool. His latest display of douchebaggery comes in the form of this review of Man of Steel.
In the article, Franco writes about his experience attending the London premiere for the new Superman movie but quickly digresses into a critique of Marc Webb's Amazing Spider-Man franchise, and the blockbuster film industry in general. You may not have the patience to wade through the 1200+ word article laden with slightly awkward turns of phrase ("latest filmic take on the superhero") in Franco's attempt to maintain his contrived facade of intellectualism. But fear not, we've picked out the highlights:
"I don't think Henry Cavill would have wanted to see me [at the Man of Steel premiere]. Not that we're enemies. Years ago we worked on a film together called Tristan and Isolde. I played Tristan and he played my backstabbing sidekick. My hunch is that he didn't like me very much. I don't know this for certain, but I know that I wouldn't have liked myself back then because I was a difficult young actor who took himself too seriously." Back then, you say?
"I too have been in comic-book films—the Spider-Man trilogy directed by Sam Raimi. I mention the director because this distinction is now necessary in the wake of the new Spider-Man series that arose even before there was time to bury the corpse of the old one and enshroud it in the haze of nostalgia." It may be true that the Spider-Man reboot came rather soon after the original trilogy ended, but we don't quite understand what exactly is wrong with that. Also, nice figurative death imagery. Are you trying to be some sort of poet, James Franco?
"We are in the film business, and the studios are owned by large corporations who want to make money. And in this art form, where so much is spent and so much profit can be made, one criterion for success is inevitably the financial." It's not a James Franco piece without the mention of "art."
Franco ultimately praises Man of Steel, but the review is largely overshadowed by his Spider-Man rant. There may indeed be some good points buried in his diatribe against the new franchise, but it has mostly just pissed people off. 
Still, never underestimate the power of James Edward Franco. After all, this is a guy who sold someone air for $10,000 (Sorry, it was "imaginary art"). This is a guy who moved to New York to simultaneously attend Columbia, NYU, and Brooklyn College (while also somehow studying at Warren Wilson College in North Carolina) and then enrolled in both Yale and RISD. This is a guy who called members of the blogosphere "idiots" after they expressed their confusion over his dildo-filled contemporary art installation. Did we mention that he convinced someone to pay $10,000 for air? 
At least James Franco must be somewhat self-aware. He did a pretty good job of making fun of his pretentiousness in This Is the End.
More:
James Franco's New Linkedin Proves He Has Had Every Job Ever 
Which Starlet Did James Franco Smack Talk?
James Franco Jumps on Crowndfunding Bandwagon, Rewards Donaters With Acting Roles and Sushi Rolls
---
From Our Partners


Stars Pose Naked for 'Allure' (Celebuzz)


20 Grisliest TV Deaths of 2012-2013 (Vulture)