James Franco's Gay Art Film Trailer is Very Confusing! Watch It Here.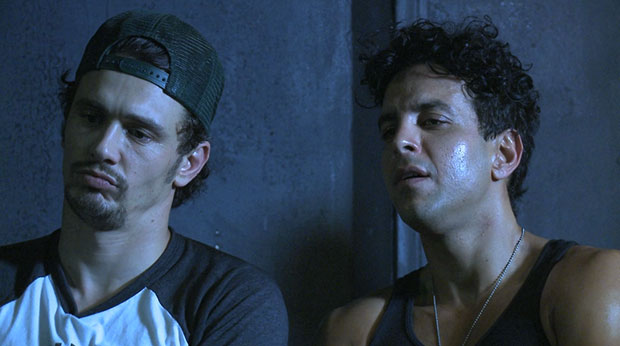 After years of ubiquity, James Franco seemed to fade from the spotlight in 2012. But everyone's favorite actor-turned-professional higher education pursuer-turned-poet-turned-artist has added another line to his resume: filmmaker. His new gay art film, Interior. Leather Bar. — yes, you read that right — debuts at Sundance in 2013 and the first trailer is now available for your gawking pleasure online.
Just because you can watch footage from the movie/art piece/documentary/???? doesn't mean you'll be able to understand what it's about, though. It is a"homo-sex-art-film," according to co-director Travis Mathews, who wonders aloud in the trailer, "Is this something that we as the artists working on it are going to manipulate to make a certain point, or do you just want it to be what is?"
Actually, Interior. Leather Bar. recreates the 40 minutes of footage cut from director William Friedkin's 1980 film Cruising, which was scrubbed of scenes that took place inside an underground gay S&M club.
Maybe you should just check out the head-scratching trailer for yourself. But be forewarned: It's not exactly family friendly, unless your family is really into leather bars and oiled-up, beefy men. In which case: YOLO. No judgments here.
Follow Jean on Twitter @hijean
[PHOTO CREDIT: RabbitBandini Productions]
MORE:
James Franco Directed Some Shoe Commercials. Because He's James Franco.
James Franco Is Making a Movie About Himself and Lindsay Lohan
Which Starlet Did James Franco Smack Talk?

'The Hobbit' Cast: A Who's Who New Character Guide (Moviefone)

'Les Miserables' Unscripted: Hugh Jackman, Anne Hathaway On Singing And Being Modest