James McAvoy Channels Frank Serpico in 'X-Men: Days of Future Past' — PHOTO
It looks like Professor X is channeling a bit of his inner Frank Serpico in Bryan Singer's lastest tweet-peek at his upcoming X-Men: Days Of Future Past. In a photo tweeted Thursday, young Charles Xavier, a.k.a. a young Professor X, a.k.a. James McAvoy, is seen in his suavest (and most synthetic) seventies get-up. Those are some seriously fusty follicle and fashion choices you've made there, Mr. Xavier: what's going on?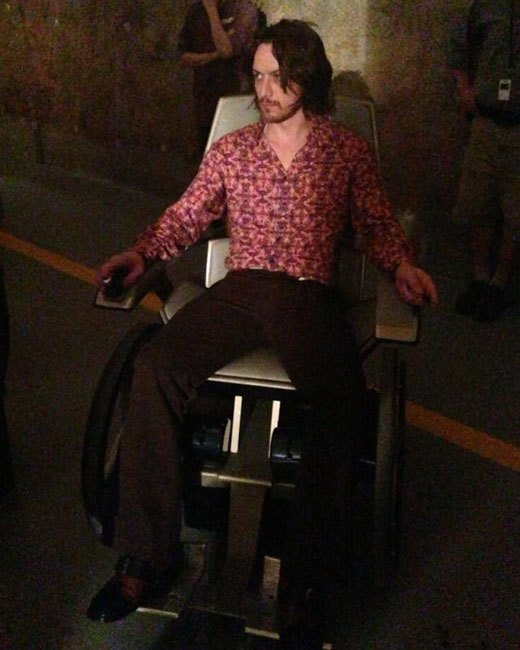 Well, what's going on seems to be entirely related to the plot of Days of Future Past. Fans of the X-Men series will note that the popular storyline from the early '80s finds our heroes dealing with (and living in) a dystopian alternative future where mutants aren't treated with as much respect. It's no wonder Singer made the Serpico reference, as Serpico was a man who some thought a hero (others, a pariah) in his work to blow the whistle on corrupt activities within the NYPD.
Needless to say, McAvoy's funky threads lead us to believe that our favorite mutants are getting retro-fitted to the times while trying to save the universe from itself. Every superhero learns to adapt in the end, but not even an ability to travel through time can save you from the polyester funk of the 1970s.
What do you think of McAvoy's snazzy look? Excited for Days of Future Past? Sound off in the comments.
Follow Alicia On Twitter @Alicialutes
More:
Halle Berry's New 'X-Men' Look: Soccer Mom Storm
Bryan Singer Teases Old and Young Professor X
A Returning Face and Two New Ones Cast for 'Days of Future Past'
---
From Our Partners:


What Happened to 33 Child Stars (Celebuzz)


40 Most Revealing See-Through Red Carpet Looks (Vh1)