James McAvoy Says 'Trance' Is His Character's 'Own Personal Horror Movie'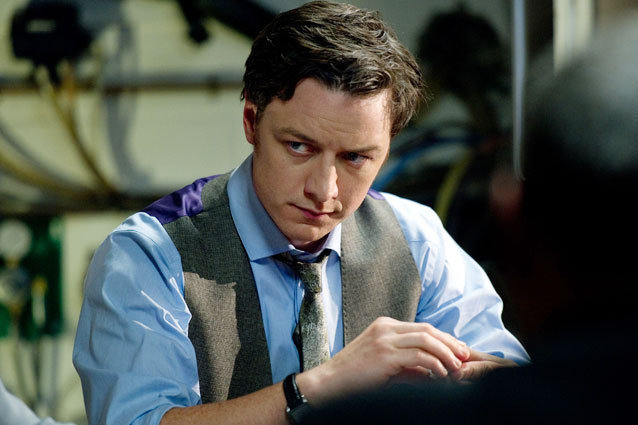 It's a simple story, really: boy loves art, boy tries to protect art against all costs, boy gets hit on the head during a high-stakes heist and forgets where he kept the painting, chaos ensues. Only the story of Simon (James McAvoy) in Danny Boyle's newest film, Trance, is far from simple, a decidedly modern take on psychological crime thrillers. 
RELATED: James McAvoy Blows Minds Literally and Gorily in 'Trance' Trailer
When it comes to Simon, McAvoy explains to Hollywood.com that "he's not entirely in possession of his self identity." Why? Well, it's partially in thanks to the aforementioned bump (handed over to him by master criminal Franck, played by Vincent Cassel), but also something more… devious. "His memory is gone, and so much about him is a mystery to the audience, but to himself as well." Lucky for Simon (and for us), the answer may be waiting in the hands of cool-voiced hypnotherapist Elizabeth Lamb (Rosario Dawson).
For McAvoy, that means playing Simon as if he is "walking through his own personal horror movie; it keeps chilling him and scaring him because everybody else knows what's going on except for him."
RELATED: 'Trance': You Liked 'Inception', Right? Rosario Dawson Does It Now
Check out Hollywood.com's video interview with the film's star:
Trance hits theaters April 5, 2013.
Follow Alicia on Twitter @alicialutes
[Photo Credit: Susie Allnutt/Fox Searchlight]
---
From Our Partners:


40 Most Revealing See-Through Red Carpet Looks (Vh1)


33 Child Stars: Where Are They Now? (Celebuzz)