Jamie Foxx Will Join 'The Amazing Spider-Man 2' as Supervillain Electro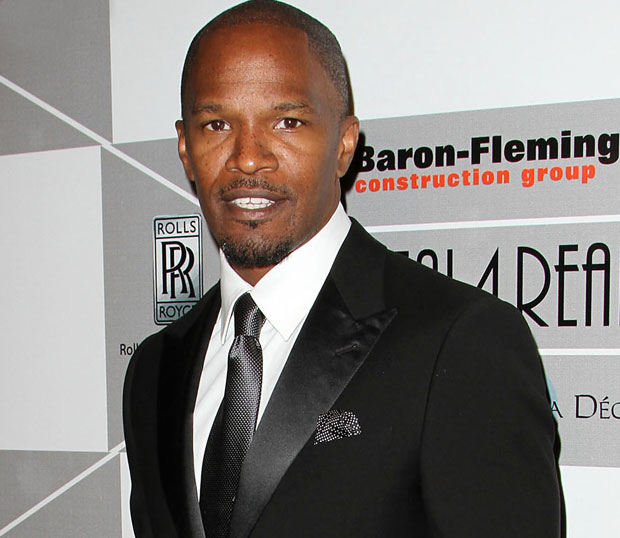 When you equate something metaphorically to a roller coaster, you're often applying something of a negative connotation. A roller coaster of emotion, a roller coaster of a relationship, a roller coaster of a career. All bad. But people love roller coasters! And people love Jamie Foxx. And if there's one thing that guy is, it's a roller coaster. Okay, I'm going to stop saying "roller coaster" now before it loses its meaning.
Foxx's career has ebbed and flowed, risen and dived from drama to comedy to drama to comedy in such a spectacular way that we're always surprised and always encouraged by the actor's upcoming choices. The latest announcement, for example, could not possibly be more enticing: Variety reports that Foxx is in talks to join the developing The Amazing Spider-Man 2. Better news yet: he's playing the villain, Electro.
After the announcement, Foxx took to Twitter to do a bit of Halloween-themed teasing of the casting news:
Dressed up as Electro for Halloween last night. Costume fits well.
— Jamie Foxx (@iamjamiefoxx) November 1, 2012
With a Tarantino film coming up (Django Unchained), three — count 'em — musical biopics in his pocket, and a variety of screwball comedies and high-tension dramas on his résumé, Foxx has little left to prove. The comic book superhero genre is perhaps the only one he has yet to conquer. And the only thing more compelling than a superhero is a super villain.
Fans will recognize the Electro character as a classic Spider-Man baddie, who earned the superhuman powers to conduct and control electricity after being struck by lightning. The character, born Maxwell Dillon, was an electrical engineer in his pre-villain days, who has had ties to characters in other series, such as X-Men's Magneto. As such, the world begs for a Foxx crossover in Bryan Singer's developing X-Men: Days of Future Past film.
[Photo Credit: FayesVision/WENN]
More:
Shailene Woodley May Tackle Mary Jane in 'The Amazing Spider-Man' Sequel
'Django' Star Christoph Waltz Headlines 'Muppets' International Sequel
New 'Wolverine' Poster Would Make Frank Miller Proud
From Our Partners: