Jared Leto and the Art of Being Cool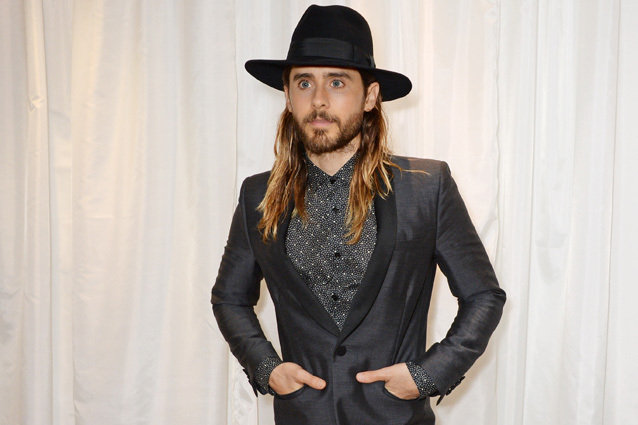 Getty Images 
As he was participating in a Q&A after winning an award at the Santa Barbara International Film Festival, Jared Leto was confronted by an angry woman. She wanted to know how he, as a non-transgender person, deserved to play the role of the transgender, HIV-positive Rayon in Dallas Buyers Club that earned Leto an Academy Award nomination for Best Supporting Actor. Instead of going on the offense, Leto engaged her in a thought-provoking conversation about acting and, when there wasn't enough time, invited the woman backstage to continue the dialogue. There's one word for that: cool.
Leto, who rose to prominence initially as a brooding teen idol on My So Called Life, has long marched to the beat of his own drum and in the process has become one of the coolest people in Hollywood. So dedicated was the actor to playing the transgender role in Dallas Buyers Club that he showed up the first day already dressed as a woman.
Instead of playing on his good looks, Leto seems only to take roles that interest him. When he's needed to, he's dropped to skin and bones to play Rayon or a heroin addict in Darren Aronofsky's Requiem for a Dream, and has put on weight to play John Lennon's killer Mark David Chapman in Chapter 27. Tired of the physical toll that the extremes of changing his body to fit a role have taken, Leto has decided to stop doing it. When you're cool, you don't let the past control the future.
Besides his acting prowess, Leto has managed to put together a critically acclaimed music career with his band Thirty Seconds to Mars, which also features his brother Shannon Leto. The band has sold millions of albums and toured around the world. When acting offers conflict with his music, Leto usually picks music… because he can.
Leto doesn't just restrict his efforts to acting and music, but spreads himself around by lending his time and talents to numerous charitable organizations. The actor has been an outspoken advocate for everything from gay marriage to stopping animal cruelty. Instead of just lending his name, he frequently shows up at events and participates. Because when you're cool, you don't fake involvement, you actually become involved.
There's a good chance that Leto will be taking home an Oscar at this year's awards ceremony after already scoring wins at the Golden Globes and SAG Awards. It's also a pretty safe bet that his acceptance speech will be heartfelt and honest… and there's nothing cooler than that.