Jason Segel and Emily Blunt Keep Not Getting Married in 'Five-Year Engagement' Trailer
I suppose I'm not really an appropriate figure to write the story of the new The Five-Year Engagement trailer. Apparently, five-year engagements are excessive. This was, until just a few moments ago (thanks to a couple of coworkers who set me straight on the issue), something about which I had no idea, seeing as the only people I ever really knew who were engaged were my sister and her now-husband. Their engagement lasted just shy of half-a-decade, and no one ever told me that they were the perfect candidates for a screwball romantic comedy.
Jason Segel plays Tom, a Jason Segel-type who finally proposes to his longtime girlfriend Victoria, played by Emily Blunt. Should go swimmingly! Until, of course, Victoria gets a job offer at Michigan University—quite a distance from the duo's current home of San Fransico (and I DEFY you to not start humming "Everywhere You Look" when the camera pans over the Golden Gate Bridge).
Victoria's two-year employment commitment gradually turns into five-years, putting quite a strain on the pair's relationship. The question is: can they make it work in the end, finally getting married after such an (apparently) inordinately long engagement period?
The answer: who cares? Chris Pratt and Alison Brie are in this, so it's automatically worth your time. The Five-Year Engagement is directed by Nicholas Stoller, and comes out April 27, 2012. Check out the new trailer and poster below.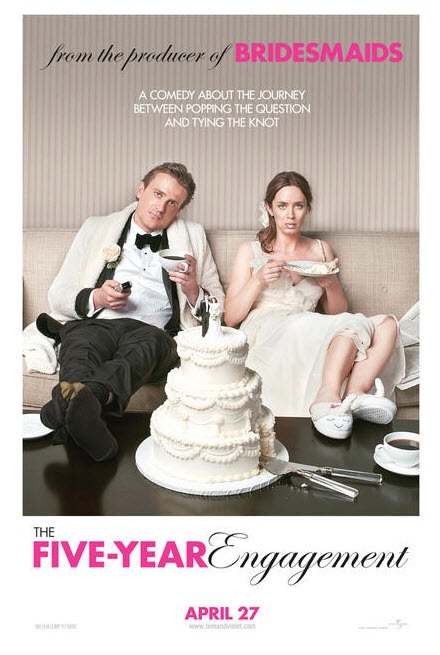 Source: Yahoo