Javier Bardem on His Quirky 'Skyfall' Villain: 'That's Me — Because I'm Insane Sometimes'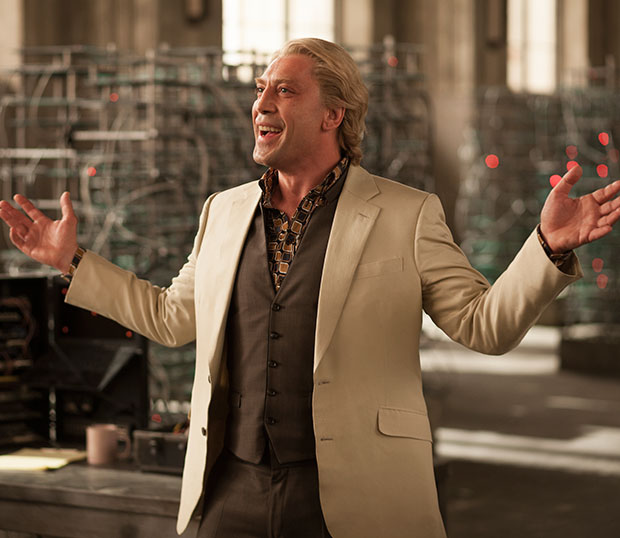 Even with fast-paced action scenes, classic Bond one-liners, and the iconic fanfare trumpeting the return of 007, there was only one element of the first Skyfall trailer everyone could talk about: Javier Bardem's hair.
The Oscar-winning actor appears in the 23rd Bond adventure as Raoul Silva, a mysterious villain whose greatest weapon is his ability to make people uncomfortable. Mix Hannibal Lecter's mind games with an awareness of personal space on par with Seinfeld's "Close Talker." There isn't anything Silva won't do to give Bond (Daniel Craig) and the MI6 the willies — and his tactics work on the audience.
To get into character, Bardem worked with director Sam Mendes to give Silva a distinct look, wild mannerisms, and a terrifying core. The result is an adversary who may be even creepier than Bardem's past iconic villain, the weird and deadly Anton Chigurh of No Country for Old Men. Hollywood.com managed to hold it together long enough to sit down with the actor to talk Skyfall. Watch the below video interview to find out how the actor pulled off his latest acting spectacle:
Follow Matt Patches on Twitter @misterpatches
[Photo Credit: Sony Pictures]
More:
What Your Favorite James Bond Says About You
10 Actors Who Almost Played James Bond
What Is the World's Most Evil Country, According to Bond?
From Our Partners:

New 'Star Wars VII': What to Expect
(Moviefone)

(Moviefone)