Jennifer Lawrence, Anne Hathaway, Christoph Waltz Go 'Between Two Ferns': Oscar Edition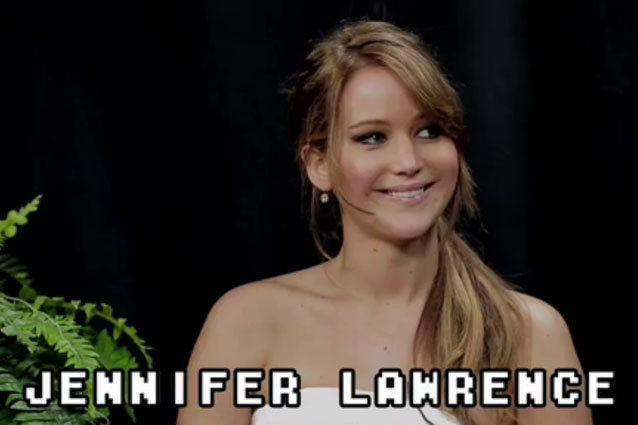 Oscar campaigning should really begin and end at Zach Galifianakis' brilliant, surreal talk show "Between Two Ferns", because it's really not going to get any better than this. In the latest, Oscar-themed edition of the Funny or Die web series Galifianakis does what he does best: make his A-list guests so very uncomfortable and testing the boundaries of normal social interaction. 
Silver Lining Playbook (singular) star Jennifer Lawrence — continuing her streak of being a charming Best Actress front runner — goes toe-to-toe with Galifianakis (in the vein of former guests like Steve Carell) after he claimed his Hangover co-star and her Silver Linings Playbook (plural) leading man called her "ugly". When Galifianakis brings up The Hunger Games, Lawrence zings him right back with, "Yeah, isn't that your life story?" Of course, he gets the last laugh as he plays her off. 
RELATED: Jennifer Lawrence is America's Darling: Can Her Charm Nab Her the Oscar? 
Not to be outdone, Best Supporting Actor nominee Christoph Waltz (also known as Christ of Waltz or Christoph Breakdance) hilariously combats with Galifianakis and deadpans that he says "the n word" more in real life than he does Django Unchained. (Man, he's going to be awesome on Saturday Night Live this weekend). Then there's Best Supporting Actress nominee Amy Adams (The Master) who says something truly dirty in the most incredible way possible, despite Galifianakis suggesting the redhead beauty's nickname in school was…something truly dirty. 
RELATED: Christoph Waltz to Host 'SNL' — That's a Bingo!
Best Actress nominee Naomi Watts (The Impossible) also takes part in the madness (between this and Movie 43, it seems the Aussie star has a pretty sick sense of humor, not to mention a good one about herself) and Best Supporting Actress shoo-in Anne Hathaway (Les Mis) manages to kill the mood yet again by pretending to be drunk, singing again, and quoting Liz Lemon again during her appearance. (Poor gal can really do no right at this point, can she?) Watch the hilarious "Between Two Ferns" Oscar edition here:
RELATED: Why Does Everyone Hate Anne Hathaway? 
[Photo credit: Funny Or Die] 
---
From Our Partners:

Celebrity Swimsuits Ever (Celebuzz)

Stars: Where Are They Now? (Celebuzz)