How Is It Possible People Are Still Talking About Jennifer Lawrence's Weight?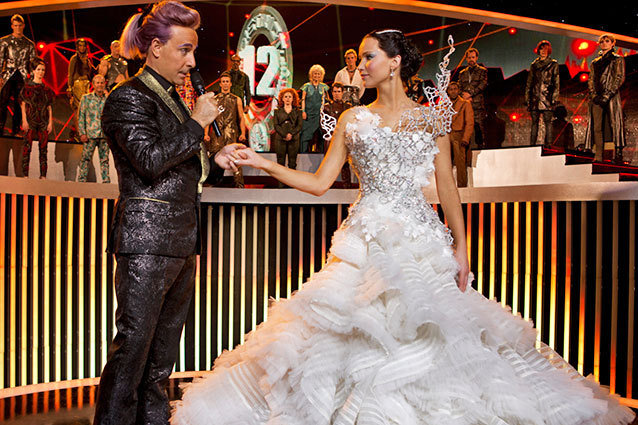 Lionsgate
When it was first announced that Oscar-nominated star Jennifer Lawrence would take on the role of Katniss Everdeen in The Hunger Games, the internet was all abuzz with complaints. Were these complaints about how the very white Lawrence was wrong to play the olive-skinned Katniss? Nope, they were all about how she was too big to play the starving District 12 warrior.
For some reason, Jennifer Lawrence cannot seem to escape public scrutiny about her weight, despite the fact that is is demonstrably no one's business. Worse still, Jennifer Lawrence is not remotely fat. This gives the impression that no matter how healthy you are, there's always a pressure to lose more weight.
Recently Lawrence sat down with Harpers Bazaar UK to chat about her career and the topic of her much-criticized weight came up. Apparently the internet isn't the only place taking crazy pills when it comes to policing how Jennifer Lawrence should look. She admitted she was warned she would need to start losing weight or risk losing her job instead.
"Somebody told me I was fat, that I was going to get fired if I didn't lose a certain amount of weight," Lawrence said. "They brought in pictures of me where I was basically naked, and told me to use them as motivation for my diet."
It's impossible to believe that Lawrence's weight is still a topic being discussed, especially after two trips to the Oscars and her stint headlining one of the biggest franchises starring a female character ever. Yet she can't seem to escape people trying to body-police her, like her perceived attractiveness and not her actual accomplishments are the only topic of conversation.
Of course, Jennifer Lawrence has become everyone's imaginary best friend for a reason. She's absolutely upfront about her love of food and refuses to listen to the comments about her body. At award shows, she's always mentioning how hungry she is or how excited she is to finally eat. No one is telling Jennifer Lawrence to starve herself.
When asked by the interviewer how she responds to these crazy dieting demands, she continues her streak of being the greatest by replying, "If anybody even tries to whisper the word 'diet,' I'm like, 'You can go f**k yourself."
A perfect response for a perfectly stupid non-issue. Now let's all stop talking about Jennifer Lawrence's weight and keep talking about how much we want her to be our best friend.
What do you think? Are you even more in love with Jennifer Lawrence now? Sound off in the comments!