Jennifer Lawrence Talks Horrifying 'House at the End of the Street' Role — EXCLUSIVE VIDEO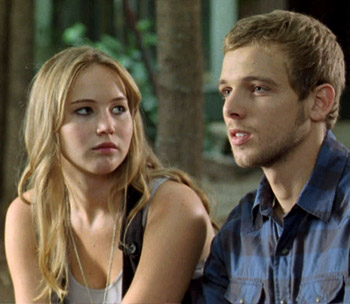 Jennifer Lawrence's career jump started with the film adaptation of The Hunger Games, which reached theaters in March. Ordinarily, it takes young adult fiction stars years to break free from the confines of their iconic roles and find cinematic projects of different genres and themes. Clearly, Lawrence is no ordinary young star. Her newest film is House at the End of the Street, a horror story that places the star just a few doors down from a house with a terrifying urban legend attached to it. One that appears to be more than just a neighborhood fairy tale.
In this exclusive featurette, Lawrence talks about breaking out of the Katniss Everdeen mold and trying on this darker, scarier, and effectively more adult movie. Check out the video below to hear Lawrence talk about House at the End of the Street, and catch the movie in theaters on Sept. 21.
[Photo Credit: Relativity Media]
More:
'House at the End of the Street' Trailer: Jennifer Lawrence, Scream Queen?
TIFF 2012: Bradley Cooper, Jennifer Lawrence Give Career Bests in 'Silver Linings Playbook'
'Serena': Jennifer Lawrence Drops 'Hunger Games' for Bradley Cooper and Class — PHOTO