Jennifer Westfeldt Talks 'Friends with Kids' Blu, 'Bridesmaids' Comparisons, and Jon Hamm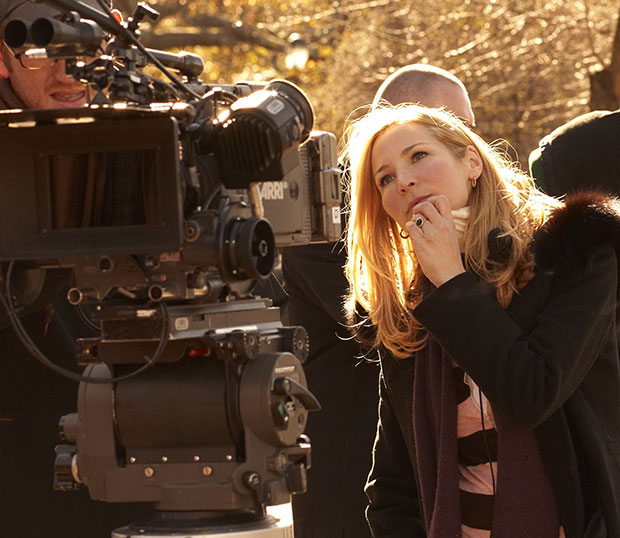 When
Jennifer Westfeldt's
Friends with Kids
, a movie about three sets of longtime friends (played by Westfeldt,
Adam Scott
,
Maya Rudolph
,
Chris O'Dowd
,
Kristen Wiig
,
Jon Hamm
) in their 30s grappling with the ups and downs of friendships, relationships, and parenthood hit theaters last September, it was hailed as the thinking (wo)man's romantic comedy.  It was smart, sexy, funny, and most importantly, relatable. 
The release came just four months after another little romantic comedy that was smart, sexy, funny, and relatable called
Bridesmaids
. It also happened to share four of its talented cast members: Wiig, O'Dowd, Rudolph, and Hamm, Westfeldt's real-life love. 
During an interview with Hollywood.com, Westfeldt, 42, the star, writer, producer and director of Friends with Kids, explained that the release dates of R-rated comedies were nothing short of crazy cosmic timing. "Honestly, the Bridesmaids thing is such a strange coincidence for us because Kristen was attached to do our film before she even shot Bridesmaids." 
"The rest of the cast came together right before we were putting the movie together and we wrapped before Bridesmaids came out," Westfeldt explained, "We hoped Bridesmaids would be successful, but I don't think we could ever have known the incredible, brilliant, epic success that film has been." 
But even with all the right ingredients, Friends with Kids didn't see quite the same level of mainstream box office success as Bridesmaids. Whether it was because it was wrongly shrugged off as a Bridesmaids spin-off ("Our film is about something very different, which is facing that next phase, whether to have kids. Or when your friends are having kids and you're left behind," Westfeldt said) or because much of the target audience, ironically enough, couldn't find a babysitter in time to see it, that may all change with the film arriving on DVD and Blu-ray today. 
"Films for grown-ups…it really is about word of mouth, and I hope that being able to buy it on DVD or Netflix it, [people will see the movie]," Westfeldt said, "I certainly noticed it with the rest of my films. With my first film [2001's indie darling Kissing Jessica Stein] it wasn't until a year after it had been in theaters that I felt like people really started to recognize it." 
Of course, good things happening to those who wait is a feeling she and Hamm are both quite familiar with. The pair, who have been dating for nearly 15 years, both found success later in their careers. "Certainly, we watched it [happen] with Mad Men. The fifth season just finished….the first two years it was a much slower burn, and obviously the word of mouth was amazing, but it took a solid years for everyone to get on board," Westfeldt acknowledged. 
"I think you appreciate successful moments more, and I think you take it all with a grain of salt because you know one moment you can have success and the next it can go away," Westfeldt said, "It makes you humble and it makes you appreciate great things a little bit more, because you know how rare they can be." 
While Hamm and Westfeldt are nothing short of a rarity by Hollywood standards, both in terms of their careers and their relationship, the multi-tasking star insists they are going through the motions of life like everybody else. "A lot of people ask 'How do you make it work?' We never know what to say, we're the same as everyone else. Relationships take commitment and work, and a lot of time put in. And I think it's the same for everyone in a long relationship." 
With
Friends with Kids
, Westfeldt takes the complexities of long-term relationships, particularly those with children in the picture, and gives it a new twist. In the film, her character Julie and best friend Ben (Scott) decide to break with convention and have a child together, but not be together so they could date other people. In their cases,
Edward Burns
 and
Megan Fox
, respectively. As Westfeldt joked, "I mean who wouldn't want to have a kid with their best friend, and then be with Megan Fox? Who wouldn't want that? That's awesome! I want that!"
But then, as is the case with most things in life, things don't go quite according to plan. "I think if there's a message to this film, their grand idea is flawed in the sense that if you're trying to avoid the messiness and the complications in life, you're never going to be able to avoid all of those things if you want to have anything worth having." 
One aspect of the messiness of adult life, particularly parents whose relationships and friendships can fall by the wayside, is something Westfeldt could draw from her own experiences. While she and Hamm are not married and don't have children, plenty of their friends do, including their long-time pal and co-star Adam Scott. (Scott is married to Naomi Sablan, with whom he has two children.) 
"Certainly it was helpful that in life Adam was one of our friends with kids. We went through that ride with them and lost them for a while, you know? And then they came back and they were very candid about the highs and the lows of it," Westfeldt shared. "I think having friends like that in your world, who can talk to you really openly about the duality of [parenthood], the great, tremendous love and joy, as well as the more stressful, challenging dynamic, is a gift."
Unfortunately, Westfeldt and the rest of the cast and crew learned the hard way that  there's an unpredictable force even stronger than love and babies and friendship: weather. Filmed in the bone-chilling December of 2010, Friends with Kids had less than desirable conditions. "It was a nightmare!" Westfeldt recalled, "We had to shoot it in 24 days, in the dead of winter. It was the worst winter in New York in 25 years. It was terrible because of the snow and the sleet and the ice and the kids everyday. We were using all of Kristen's days off from SNL so the schedule was crazy. It was so hard, in every way." But like any labor of love, they nurtured their indie baby. "Of course, I wish we'd had more time…but luckily with this wonderful crew and incredible cast, I think we just pulled it off." 
And much like Friends with Kids makes us laugh at the things in real-life that typically make us want to scream (there's a particularly brilliant dinner party scene in which Rudolph and O'Dowd have the kind of fight every couple has), the extras on the Friends with Kids DVD and Blu-ray helped Westfeldt and co. do the same. 
"There's a commentary track with me and Will Rexer, my cinematographer and Jon and we sort of go through all the epic things that went wrong daily, and why we had to change certain things. All the nightmares, when the kids melted down, and ad libs and people losing it. It was kind of fun and funny putting that stuff together because we were just reliving every daily crisis that we had." Sounds like adulthood, alright. 
Friends with Kids
is available on DVD and Blu-ray today, July 17, and includes special features such as a
blooper reel
 and making-of featurette. A special edition version at Target, which features additional commentary from Jon Hamm and Adam Scott, is also now in stores. 

More: