Jeremy Irvine & Helena Bonham Carter May Join 'Great Expectations'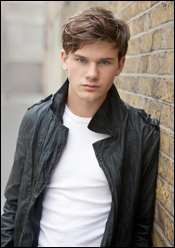 Today in Oscar bait: Jeremy Irvine and Helena Bonham Carter are in talks to join Mike Newell's adaptation of the classic Charles Dickens novel Great Expectations as Pip and Miss Havisham, respectively. Rowan Joffe (The American) is adapting the screenplay, a story of an orphan who becomes a young gentleman with the help of an unknown benefactor.
Many consider Great Expectations to be one of Dickens' best works, so unsurprisingly, this won't be its first adaptation. Back in 1948, David Lean directed an Oscar-winning black and white version. Followed by that was a contemporary remake, set in NYC and pretty poorly done (IMO) by Alfonso Cuaron. Then in 1999, Julian Jarrold made a Masterpiece Theatre version.
If you've made it this far without googling Jeremy Irvine's name, here's the scoop: he's a fresh face who makes his big screen debut later this year with Steven Spielberg's War Horse, which releases December 28. Apparently, Spielberg picked the young actor out of obscurity for that role, so he must be a pretty talented kid. That or his uncle is Harrison Ford or something.
Source: Variety