Jeremy Renner and Rachel Weisz Talk 'Bourne Legacy': "He Was Responsible for My Life!"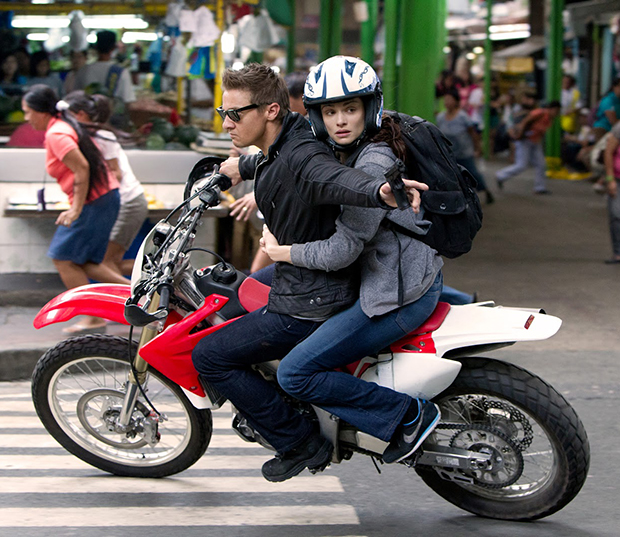 When news broke that a fourth Bourne movie was in the works, fans and critics alike were understandably wary: Why would the decade-spanning successful franchise, which wrapped itself up so neatly in 2007 with The Bourne Ultimatum, need another installment? What's more, why did the folks behind the curtain decide to go forward without the films' titular character (and big ticket star), Matt Damon? Well, when The Bourne Legacy stars Jeremy Renner, Rachel Weisz, and Edward Norton gathered with writer/director Tony Gilroy and his brother, writer Dan Gilroy, in front of a gaggle of Los Angeles reporters last month, their answer was simple: There was more of the story to tell.
"A lot of smart people tried to figure out how to go forward after Ultimatum," Tony explained. "It was wrapped up so beautifully. How could we go forward? You could say that there was a much larger conspiracy, you could say that [Bourne] was only a small piece of this [conspiracy]. That's a sexy idea. [The producers] said, 'You know what else you could do? You could have Ultimatum play out in the background of the first 12-15 minutes of our movie. There could be a phone call from the other movie to our movie.'"
These ideas did end up forming the basis of Legacy's plot, but the Gilroys weren't sold until Renner's character, Aaron Cross, was fully fleshed out. "When the character came through and we suddenly realized there was a character with as fundamental an issue, as fundamental a problem, as much meat on the bone as there was for Jason Bourne… that's when it really got interesting," Tony said. "And that's when Danny and I started talking to each other 19 times a day on the phone."
When Renner decided to step in as Cross, he felt it was crucial to keep his mind off the massive acclaimed heaped on his predecessor. "I don't start off figuring out a character by comparing it to another character," Renner said. "It's a new palate of colors, and a new canvas to paint upon."
One major difference between Cross and Bourne, one that will likely be discussed at length when reviews start pouring in, is the fact that Cross wants to be a scientifically altered mega-spy, while Bourne's involvement in the program always posed an ethical dilemma. For Renner, this was a major positive. "I feel connected to that idea of wanting to belong to something, to have a sense of purpose as a man on this planet," he said. "I think most people do. That's what I initially connected to — feeling like you're doing some sort of good."
Of course, after back-to-back physically demanding roles in Mission: Impossible — Ghost Protocol and The Avengers, Renner had another major concern in mind: his health and safety. "Not getting hurt!" he laughed, when asked about his initial hesitations. "I can't get injured. I wanted to do as much as I possibly could, because of the responsibility of the authenticity of the three films prior. It would do a great injustice and disservice to this film if I could not perform what was required. I like those challenges; I like those physical obstacles."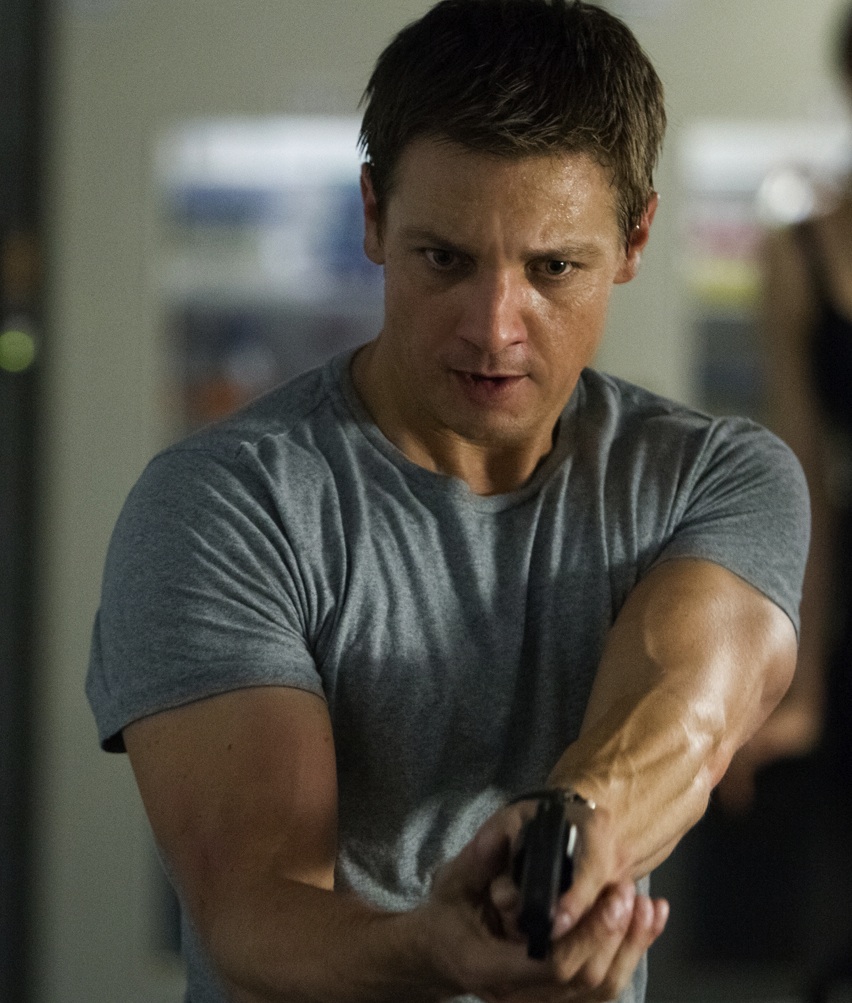 If the film's final, elaborate Manila bike chase scene and the mind-blowing stunts Renner performed in Alaska are any indicator, then his physical work was a smashing success. But that still leaves us with the question — did he get hurt? "I hurt my feelings here and there," he joked.
Since the Gilroys and co. were given a nearly blank canvas when creating their next super-spy, the possibilities were endless. But one possibility that never entered their minds — until this press conference — was a lead female spy. Still, the Gilroys insisted that Weisz' character, a scientist whose knowledge of "The Program" becomes a direct threat to the CIA, is just as dynamic. "The idea with Rachel was to take somebody who starts out as a victim, and ends up being a full collaborator in her own survival,"  Tony explained. "That's as interesting as any secret agent or spy."
Weisz agreed, saying that her target-on-my-back character's normality was one of the things that attracted her to the project. "I'm not playing an action heroine, I'm playing a scientist who is a pretty normal person," she said. "I'm not physically gifted in any way. It's always realistic — she's really scared, really terrified, and then in the end she tests to kick ass a little bit."
The ass-kicking that Weisz is referring to occurs in the aforementioned Manila bike chase scene, a visual stunner that had the actress literally holding on to Renner for dear life. "What it was like to be on the back of a bike with Jeremy?" she said. "It was terrifying! What Jeremy told me today — which was really sweet, he never told me when we were in Manila — was that that was the scariest stunt for him, because he was responsible for my life. I just had to surrender; I just had to hold on. I didn't have to act, it just was terrifying."
The Bourne Legacy hits US theaters Friday, Aug. 10.
Follow Shaunna on Twitter @HWShaunna
[Photo Credit: Universal Pictures]
MORE:
'Bourne Legacy' Lives On: Jeremy Renner Starring in 2 More Movies? — EXCLUSIVE
New 'Bourne Legacy' Trailer: More Jeremy Renner, Bourne Mentions