Jeremy Renner To Co-Star With Tom Cruise in 'Mission: Impossible 4'

As the Tom Cruise vehicle Knight and Day failed to live up the lofty box-office standards that controversial actor is known for, insiders raised the question of whether Paramount Pictures would be forced to pursue some kind of Shia LaBeouf-type to revitalize their upcoming Mission: Impossible 4 and to bolster the franchise against Cruise's newfound box office anathema.  Now, after some two months of speculation, it will be announced that Jeremy Renner, the Oscar-nominated star of The Hurt Locker, has been picked to inject some new blood into the 14-year-old franchise.
Paramount chose Renner to co-star with Tom Cruise after a prolonged search that included planned screen-tests for a number of young actors, including Tom Hardy, Chris Pine, Kevin Zegers, Christopher Egan, and Anthony Mackie.  However, Deadline is now reporting that the studio has officially canceled its remaining screen-tests and has set the somewhat older Hurt Locker star for the series' fourth installment.  
M:I4 will mark the second major role Renner has landed after his critically hailed turn as reckless adrenaline-junkie Sergeant William James in 2008.  The 39-year-old actor is currently set to play Hawkeye in Marvel Studio's upcoming superhero ensemble flick The Avengers, with director Joss Whedon.  He also has a supporting role in Ben Affleck's The Town, which debuts next month.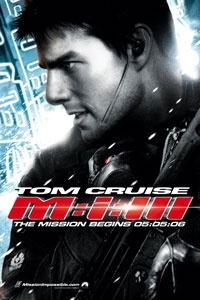 According to Deadline, Renner will be groomed to take over the franchise should Cruise cease to be the films' central protagonist.  Though Cruise is still expected to return for a fifth Mission: Impossible, studio execs wanted a new co-star to act as an insurance policy for the billion dollar franchise.  Production chief Adam Goodman said that Renner had "a Daniel Craig quality" that the studio felt would be bankable in the long run.
Ratatouille and The Incredibles director Brad Bird will direct from a script by Josh Appelbaum and Andre Nemec, with M:I:3 director JJ Abrams returning to produce alongside Cruise.  Mission: Impossible 4 is set to begin production this fall on location in the U.S., Vancouver, Prague and Dubai.
Source: Deadline