Jessica Chastain Delivers One-Two Punch at Box Office with 'Mama' and 'Zero Dark Thirty'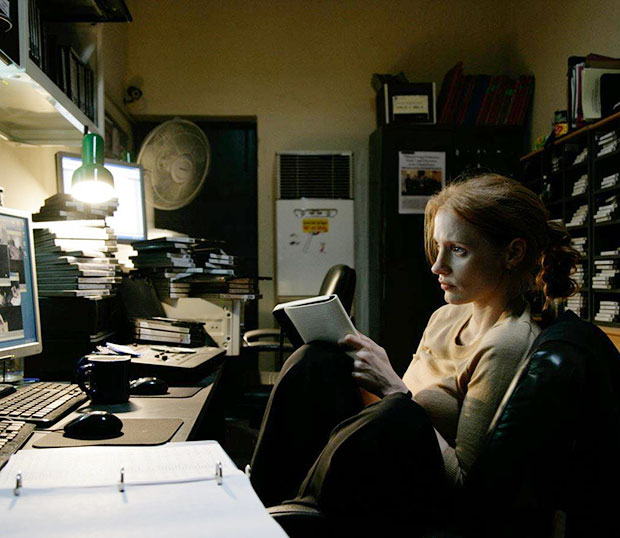 Mama might have finished on top of the box office, but Jessica Chastain is the true winner of the week. Just days after winning a Golden Globe, Chastain raked in some serious green with her films Mama and Zero Dark Thirty, which finished in the No. 1 (with $28.1 million) and No. 2 (with $17.6 million) slots, respectively. No doubt Oscar buzz for Chastain and controversy surrounding Kathryn Bigelow's Osama bin Laden picture is helping Zero Dark Thirty dominate at the box office. As for Mama, which is attracting just middling reviews? Though Universal projected lower numbers for Mama, never underestimate the power of a PG-13 horror film.
RELATED: Can Arnold Schwarzenegger's 'Last Stand' Stand Against 'Zero Dark Thirty'?
Strange that Chastain has more pulling power than a once-marketable marquis name, Arnold Schwarzenegger. The artist formerly known as California's governor attempted a big screen comeback with The Last Stand, which marked his first starring role in nearly 10 years. Unfortunately, audiences didn't quite stand in line for The Last Stand — the film collected $6.3 million its debut weekend, coming in tenth place behind Les Miserables, with $7.8 million and The Hobbit with $6.4 million. Still, it's a sure thing that Schwarzenegger will be back. Terminator 5 anyone?
RELATED: How Often Have Stars Battled Themselves at the Box Office?
Awards buzz isn't just helping Zero Dark Thirty — David O. Russell's Silver Linings Playbook, which scored Jennifer Lawrence a Golden Globe Sunday, is also climbing up the box office charts, finishing in third place with $11.35 million. Seems Harvey Weinstein's awards season pull also works wonders at the theater.
How did the rest of Hollywood — including Mark Wahlberg's Broken City fare at the box office this weekend? See the top 5 films below!
RELATED: 'Mama' and Other Female Ghosts in Horror Movies: Which Is the Scariest?
1. Mama: $28.1 million
2. Zero Dark Thirty: $17.6 million; $55.945 million to date
3. Silver Linings Playbook: $11.35 million; $55.3 million to date
4. Gangster Squad: $9.1 million; $32.2 million to date
5. Broken City: $9 million
[Image Credit: Columbia Pictures]
---
You Might Also Like:

Who Wore This Crazy Hat?

Stars Who Changed Their Look