Jessica Chastain vs. Jessica Chastain: How Often Have Stars Battled Themselves at Box Office?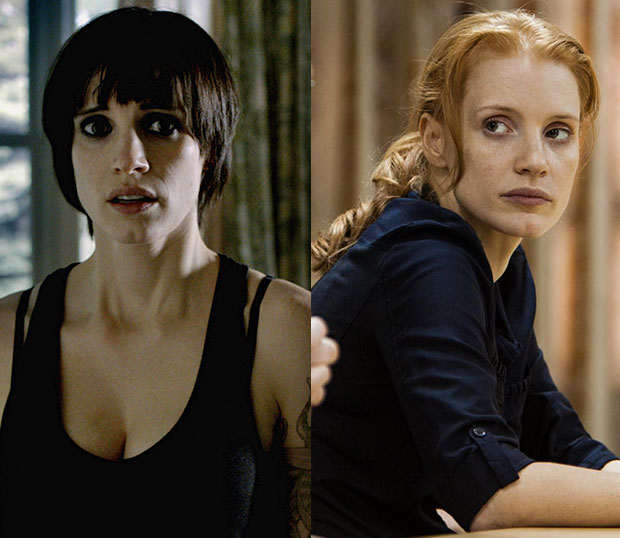 This weekend pits stars against some very formidable competition: themselves!
Impressively, Jessica Chastain and Russell Crowe will likely appear in four of the Top 10 films this weekend with the Golden Globe-winning Chastain facing the real possibility that she will star in the Top 2 films on the chart. Crowe has, of course, been singing in the musical hit Les Misérables for the past few weeks now and will be joined this weekend by himself in Broken City, co-starring Mark Wahlberg. Since Les Miz will certainly have a Top 10 finish this weekend, Crowe will have much to crow about with two of his films battling it out in multi-plexes accross the country.
Even more notable is the chance that Chastain could own the top two spots on the chart over the Martin Luther King weekend. Zero Dark Thirty has a shot at two weekends in a row at the top of the chart as it heads into its second weekend of wide release today with gobs of momentum, having topped the box office every single day since its wide release on Friday, Jan. 11.
Chastain in ZD30 will be joined this weekend by herself in Guillermo del Toro's presentation of the psychological horror film Mama, which opens in 2,647 theaters. Though Universal is projecting a weekend gross in the low to mid teens, we have learned not to underestimate the drawing power of a PG-13-rated horror film and thus believe it could have a shot at a second- or even first-place finish over ZD30.
Has this ever happened before?
Well, let's look at Leonardo DiCaprio, whose Titanic (which opened in mid-December 1997) was shockingly still in the marketplace and holding at No. 1 (three months later!) when DiCaprio's The Man in the Iron Mask debuted in second place to the box office behemoth, which was in its 13th weekend of release. Leo therefore was in the top two films the weekend of 3-13-98.
Box office fun fact: Leo is clearly the king of self-competition: His Gangs of New York opened on 12-20-02 and then Catch Me If You Can on 12-25-02 in a very notable release schedule dust-up. Catch Me debuted in second place (first place: LOTR: Two Towers) and Gangs which was by then in its second weekend, ranked fourth.
Can you think of other instances of star vs. themselves match-ups?
[Image Credit: Universal Pictures; Columbia Pictures]
More:
'Zero Dark Thirty' Director Kathryn Bigelow Says 'Depiction' of Torture Is Not An 'Endorsement'
'Zero Dark Thirty' Box Office Win: Defying the Odds of Modern War Movies
Box Office: Can Arnold Schwarzenegger's 'The Last Stand' Stand Against 'Zero Dark Thirty'?

100 Hottest Women of the Century: Do You Agree?