Jimi Hendrix Biopic: Andre 3000 Will Become the Legend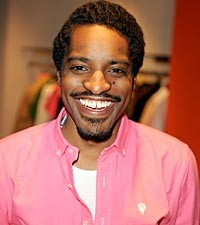 It has long been rumored and more or less assumed that rapper-turned-actor-turned-fashionisto Andre 3000 would play Jimi Hendrix in a biopic about the late guitarist/singer, and now it appears to be official.
All Is by My Side, which will reportedly focus more on Hendrix's early days as a musician and ascent to stardom (but presumably not neglect his 1970 death and the events leading up to it), is currently said to be in pre-production in Ireland. Writer John Ridley (Three Kings, Undercover Brother) will pen the script and make his second attempt at directing.
Andre 3000 (real last name: Benjamin) hasn't rapped as one-half of the hip-hop duo Outkast since 2006's Idlewild — the soundtrack based on Outkast's movie musical of the same name — and hasn't appeared in a film since 2008's Semi-Pro.
More:
Is Andre 3000's Jimi Hendrix Biopic Really Happening?