Joaquin Phoenix or Emile Hirsch May Play John Belushi in New Biopic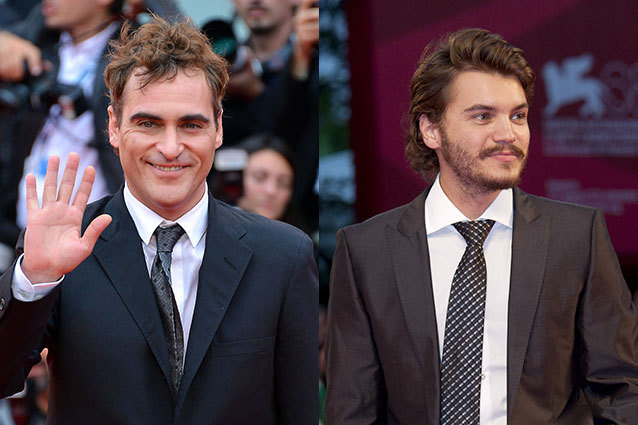 INFevents
John Belushi is headed for the big screen once again, only this time he'll be portrayed by a different famous face. Joaquin Phoenix and Emile Hirsch are in talks to play Belushi in an upcoming biopic about the famed comedian, according to The Hollywood Reporter.
Under Warner Bros' wing, the indie will be written by Steve Conrad (The Weather Man, The Secret Life of Walter Mitty) and produced and directed by Todd Phillips (The Hangover). Apparently, Hirsch (Into the Wild) and Adam Devine (Workaholics) have already met with Conrad, while Phoenix's name has been heard around the rumor mill. As for the role of Dan Aykroyd, Nelson Franklin (Veep, New Girl) is in talks to play Belushi's friend and Saturday Night Live co-star.
While DeVine hits the marks for both appearance and humor, Hirsch and Phoenix seem to be a little strange for the part. Hirsch is a bit too scrawny and timid to play burly Belushi, and Phoenix might simply be too old for the part. That said, Phoenix is a great character actor and delves deep into his roles, so he might be better at capturing Belushi's vivaciousness than we're able to picture at the moment.
However, if the requirement for getting the role is just being a husky male with brown hair (which it seems like it is at this point), then here are a few more people who might be up to the task of taking on the king of comedy, courtesy of Internet rumblings:
– Zach Galifianakis
– Jonah Hill
– Bobby Moynihan
– Ethan Suplee (My Name is Earl)
– Tyler Labine (who played Belushi in the 2005 TV movie Behind the Camera: The Unauthorized Story of Mork & Mindy) 
– Artie Lange (but we know at 46-years-old, he's not going to make the cut)
– An Unknown (maybe the best move would to pick someone who isn't a big-name star so the portroyal of Belushi won't be judged so harshly)
Conrad and his team are looking to start production in spring 2014.