Joaquin Phoenix Reunites with His 'Master' Paul Thomas Anderson for 'Inherent Vice'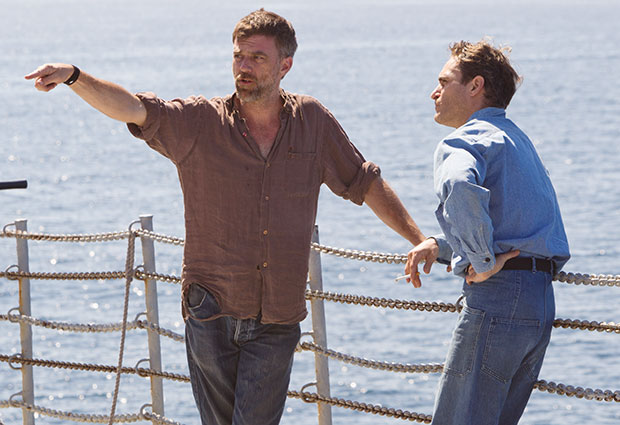 You know what they say — the shared experience of systematic emotional torture and acrid brainwashing really forms the strongest of friendships. Though such horrors only occurred onscreen when it came to The Master (at least, we hope), an indelible bond has apparently formed between director Paul Thomas Anderson and his star, Joaquin Phoenix. Variety reports that the two have joined forces once more for the developing film Inherent Vice. Hollywood.com has reached out to Phoenix's rep to confirm the news of his casting.
Anderson's next feature keeps in step with his pattern of battered antiheroes, treading to the point of exhaustion in a sea of their own tragic flaws. The story, derived from the eponymous novel by Thomas Pynchon, focuses on a private detective and established marijuana aficionado living, working, and suffering in 1969 Los Angeles. Reports had involved Robert Downey, Jr., as Anderson's original choice for lead character Doc Sportello, but the Iron Man star has apparently vacated discussions, making way for Anderson vet (and sure-fire dynamo) Phoenix.
While many considered The Master a slip in quality from Anderson's previous masterpiece There Will Be Blood, nobody can resist excitement over a forthcoming picture by the cinematic genius, nor can many deny the unbridled skill in Phoenix's onscreen maneuvers. With a colorful setting like L.A. in the late '60s, and the shimmering murder mystery into which Doc will find himself thrust, we've got quite the splendid recipe in this project.
[Photo Credit: Phil Bray/The Weinstein Company]
More:
Coen Brothers' 'Inside Llewyn Davis': 1960s Greenwich Village and a Cute Cat
'The Way, Way Back' May Not Be the $10 Million Hit Everyone Thinks It Is
Bradley Cooper Wants To Play Lance Armstrong In Biopic
You Might Also Like:

Manti Te'O Comes Clean About Girlfriend Hoax