'John Carter' Taylor Kitsch Has 'The Scars to Prove' His Stunt Work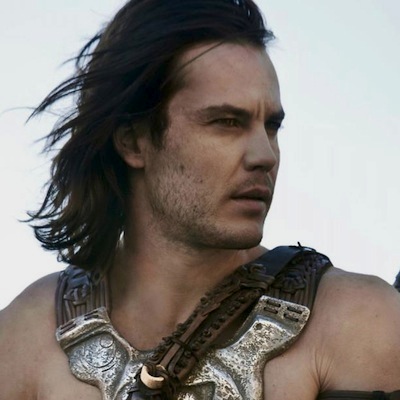 Taylor Kitsch earned raves during his stint on the Friday Night Lights TV show and a brief appearance as Gambit in X-Men Origins: Wolverine, but is he ready to tackle a $300 million dollar sci-fi epic?
Of course he is.
When I sat down recently with the young actor to discuss his first big outing as a leading man, headlining Disney's big-scale action blockbuster John Carter, he brushed off the pressure that you may think would come coupled with the job. That's because, for Kitsch, it's just another role—a role that he takes, very, very seriously. Whether he's swinging from a giant rig to emulate his character's gravity-defying leaps, battling dudes on stilts that will later become 8-foot tall Martians or engaging the local object of affection, Dejah Thoris, in an emotional duel of words, it's all the same for Kisch: acting. The only difference is that occasionally, certain scenes left him with sore muscles or scars. No big thing.
Watch our video one-on-one below, where we discuss the John Carter's crazy stunts, the pressure of blockbuster moviemaking and whether the star actually believes in extraterrestrial life. Then, scroll down for even more quotes from Kitsch on the making of the movie!
John Carter hits theaters this Friday, March 9. Make sure to check out our other JC interviews with leading lady Lynn Collins and human-turned-alien Willem Dafoe!
="font-style:>
Kitsch explains the movie's sizable reshoots:
A lot of it was—and this was something Stanz [Andrew Stanton] didn't see coming—was the technicality of the jumps. It was so incredibly technical and it's something that, if we do a second one, we'll have down. We will, now. But we had to fix it. The last thing you want is to have it take you out of the film. It takes about five to eight people to do a good one, because it's all timing. There are so many variables that come in to it. That was the reshoots—and then these little moments. It was great for me because I was working six day weeks on it and I'm in almost every shot of the film. I was beyond exhausting. I was coming into the reshoots super apprehensive, as an energy thing. I just had to save it. But it was great for me because [Stanton] just wanted a couple looks between me and Dejah, planting seeds in the film. All those little things.