Johnny Depp Gets Gangster (Again) for 'Black Mass'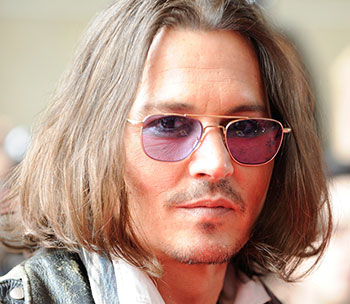 Johnny Depp has once before played a hard-nosed gangster — John Dillinger in 2009's flawed but enjoyable Public Enemies. This time, though, the feds will be working with Depp's newest mark: as Boston's most notorious gangster, Whitey Bulger, in the upcoming crime thriller Black Mass. Directed by Barry Levinson, the collaboration was announced Saturday via a press release.
RELATED: Is Johnny Depp's Tonto in 'Lone Ranger' the Next Captain Jack? — TRAILER
The film rights for the New York Times bestseller, Black Mass: The True Story of an Unholy Alliance Between the FBI and the Irish Mob, (what a brief and succinct title!) were optioned in 2005 by Cross Creek Pictures, who will be distributing and producing the film with Exclusive Media. Written by former Boston Globe reporters Dick Lehr and Gerald O'Neill in 2001, it tells the story of Bulger, but with an updated end — thanks to the June 2011 capture of the mobster who had been on the FBI's Tne Most Wanted list for over a decade. Screenwriter Mark Mallouk handled the adaptation.
"Black Mass expertly details the twists and turns of this highly complex story, painting a vivid portrait of Boston's underbelly and its corrupt political machine, as well as exposing the worst scandal in FBI history. It's also an examination of loyalty to family, Irish heritage, and South Boston," explained Cross Creek Pictures president, Brian Oliver.
RELATED: Johnny Depp Might Destroy His Evil Computer in Nolan-Produced 'Transcendence'
Based on the true story of Whitey Bulger — brother of a state senator and the most infamous violent criminal in the history of South Boston — Black Mass chronicles the rise of Bulger to informant for the FBI in order to prosecute a turf-invading mob family.
However, a double cross is afoot, with the Feds turning around to ultimately prosecute Bulger, his partner in crime, and the original FBI agent working with him. Working with the government is never easy when you're a member of organized crime, is it?
Have you read Black Mass? Excited to see Depp take another turn as a mob man? Let us know in the comments!
[Photo Credit: WENN]
Follow Alicia on Twitter @alicialutes
---
You Might Also Like:

Biden? Ford? Surprisingly Hot Young Pics of Politicians

Who Wore This Crazy Hat?

Stars Who Changed Their Look After Love