Jon Hamm, the Movie Star?: 'Mad Man' Actor Cast in Sports Drama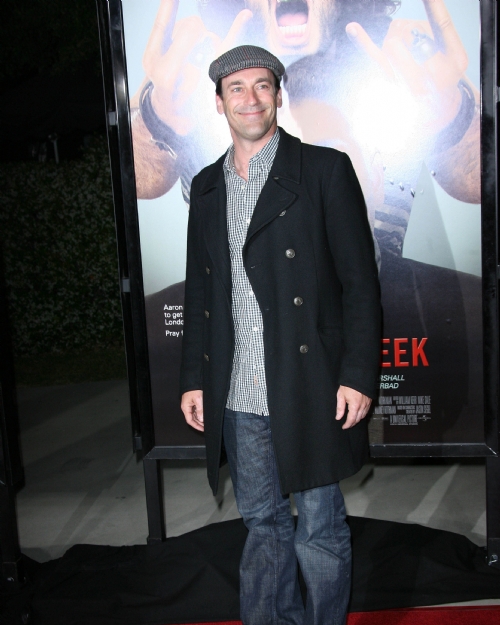 Jon Hamm, the man with the million dollar charms, has been cast in the Disney sports drama The Million Dollar Arm. The Mad Men actor will star in the based-on-true-events tale of American sports agent J.B. Bernstein who discovered two teenage cricket players in India and turned them into baseball players in the U.S. According to The Hollywood Reporter, who confirmed Hamm's casting, the film has no director attached yet but will be penned by Tom McCarthy and Mitch Glazer.
While Hamm has been on the big screen since his breakout as Don Draper on the critically beloved AMC drama, this will mark his first leading man role on the big screen. (What?! I know, I can't believe it either.) With memorable supporting turns in The Town, Friends With Kids, and his scene-stealing role as Kristen Wiig's douchey friend with benefits in the smash comedy Bridesmaids, Hamm has made his mark in movies but his marquee looks haven't exactly made him a marquee name. Yet.
Though The Million Dollar Arm sounds like it's in the same vein as lighter, family-friendly sports movies like The Rookie or Miracle, which would be a change of pace for Hamm who has appeared in R-rated fare, the actor's fan base certainly skews a little bit older. Of course, Hamm has a generation-spanning likeability and approachability and considering the actor always plays against type as a jerk or bad guy, it will be refreshing to see the star try a new angle. At long last, Jon Hamm can make us swoon on the big screen, too.
Still, it will be interesting to see what other kinds of projects Hamm attaches himself to outside of Mad Men and if he aims for movie star status or continue to build his cred as a gifted actor. The 41-year-old has already proven himself as a comedic gem who plays well with others (see: Saturday Night Live, 30 Rock, this video, and this video) so perhaps it would be in Hamm's best interest to take a career route similar to fellow Talented Funny Handsome Man Paul Rudd rather than, say, Talented Slightly More Serious Handsome Man George Clooney. Either way, more Hamm (especially amplified on a big screen) can only be a good thing.
[Photo credit: David Edwards- © 2010- DailyCeleb.com- All Rights Reserved]
More:
Jon Hamm Sings an Ode to Taxi – VIDEO
Jon Hamm Nearly Lost Mad Men Role Because He Wasn't Sexy Enough
Daniel Radcliffe Could Play Young Jon Hamm in British Miniseries