Jonathan Liebesman Confirmed For 'Clash Of The Titans 2'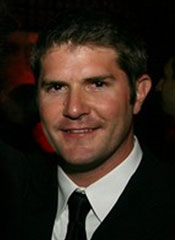 Things continue to look good for the career of Jonathan Liebesman. After bursting onto the scene in 2003 with the sleeper horror hit Darkness Falls, he continued making audiences scream with The Texas Chainsaw Massacre: The Beginning and the scarcely-screened The Killing Room. His next film, the alien-invasion actioner Battle: Los Angeles (due March 11th 2011), is sure to be a helluva good time and the grand scale war sequences that he has conjured for it got him noticed by Warner Bros. Pictures, which has officially locked him into the director's chair on it's Clash Of The Titans sequel, says THR's Heat Vision.
It's not necessarily a new development (we reported on Liebesman's potential to helm the film on June 11th), but it does solidify the studio's plans to have the sequel ready for a 2012 release. There are no details regarding the plot of the project, but this is what we know: Clash 2 will be shot in 3D, which will undoubtedly improve on the migraine-inducing dimensional display that the first film subjected upon moviegoers. Aside from the negative criticism that the Louis Leterrier-directed original garnered because of its painful post-production conversion to 3D, the film was also lambasted for it's hokey, amateurish dialogue (provided by Phil Hay, Matt Manfredi and Travis Beacham). This time around, Warner's has recruited some its top scribes including Greg Berlanti (Green Lantern, The Flash), Dan Mazeau (Johnny Quest) and David Leslie Johnson (Orphan, Red Riding Hood) to craft a story worthy of the mythology on which the film is based.
Other than that, we know only that Sam Worthington and Gemma Arterton are expected to reprise their roles for the sequel, but no other casting info exists. Hopefully Arterton's Io wil have a beefed up role in the new film because I felt that she drastically wasted in the first. I've got no complaints about Worthington – he is the action star of the next decade and handles the challenges of blockbuster filmmaking as good as any actor I've seen in recent years. I'm feeling much more confident about the sequel with the talent that is involved, but this development in no way guarantees a quality film. Warner Bros. is arguably the best of the major studios in the business, but I strongly feel that they dropped the ball on Clash; I've got no choice but the remain skeptical until more information about the new project goes public.
Source: Heat Vision