Joseph Gordon-Levitt a Superhero After All? Marvel Eyes Him For Next Franchise — REPORT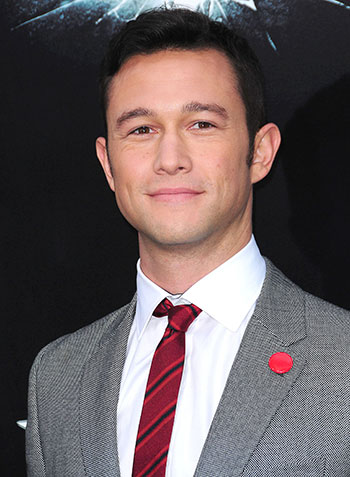 Duh-nah-nah-nah-nah-nah… Star-Lord? After watching Joseph Gordon-Levitt's Officer John Blake literally rise to the occasion at the end of Christopher Nolan's trilogy-ender The Dark Knight Rises fans have been itching for JGL to don a cape. Or even a mask. Something made of vinyl or lycra? Please? But hopes were dashed when his rep denied rumors that he was eying a role as Batman in the upcoming Justice League film. Fear not, superhero fans, there is still hope: reports of Gordon-Levitt's potential casting as Peter Quill, a.k.a. Star-Lord, in the upcoming Marvel flick Guardians of the Galaxy, gives us a new outlet for our JGL dreams.
According to Deadline, Gordon-Levitt has just joined the pool of potential actors slated to portray Star-Lord; it's a list that includes Zero Dark Thirty's Joel Edgerton, Cloud Atlas's Jim Sturgess, The Hobbit's Lee Pace, and Les Mis breakout Eddie Redmayne. However, representatives for Gordon-Levitt could not be reached at the time of publication.
GALLERY: Save Us! 15 Sexiest Superheroes
The practically universally-beloved actor could change comic book universes, hopping from DC's Batman realm to Marvel's superhero world, which just happens to share space with its most recent set of megastars The Avengers. In the Guardians of the Galaxy, like an interstellar version of The Avengers, the team of alien superheroes protects the galaxy proactively, instead of waiting for trouble to strike. The comic books, which are considered to be rather niche and stylized, likely owe their upcoming film adaptation to the monumental success of Marvel's other properties like Iron Man and (for the millionth time) The Avengers. To add music to comic book fans' ears, super-geek and self-professed Guardians aficionado James Gunn is writing and directing the flick as part of Marvel's Phase 2, and due to its easy inclusion into the Marvel universe, it's likely we'll see a major connection to The Avengers when the film finally hits theaters. 
GALLERY: 15 Villains We Like Better Than Heroes
Besides pulling from the momentum of Marvel's preceding successful franchises, landing a name like JGL could lend the budding franchise significant steam, creating an initial attachment for fans who haven't gone far enough into the Marvel universe to connect with the Guardians of the Galaxy. And of course, it would keep our cries for "More JGL!" quiet… at least for a little while, anyway.
Follow Kelsea on Twitter @KelseaStahler
[Photo Credit: Dan Jackman/Wenn]
More:
Joseph Gordon-Levitt Won't Play Batman in 'Justice League,' But We Can Dream…
'Guardians of the Galaxy' Enlists Superfan James Gunn to Write and Direct
Joseph Gordon-Levitt on Why His 'Looper' Character Is and Isn't a Young Bruce Willis

'American Idol' Winner Hospitalized After Head-On Car Crash

20 Hottest Bikini Bodies of 2012: Katy Perry, Miley and More!