Joseph Gordon-Levitt Won't Play Batman in 'Justice League,' But We Can Dream…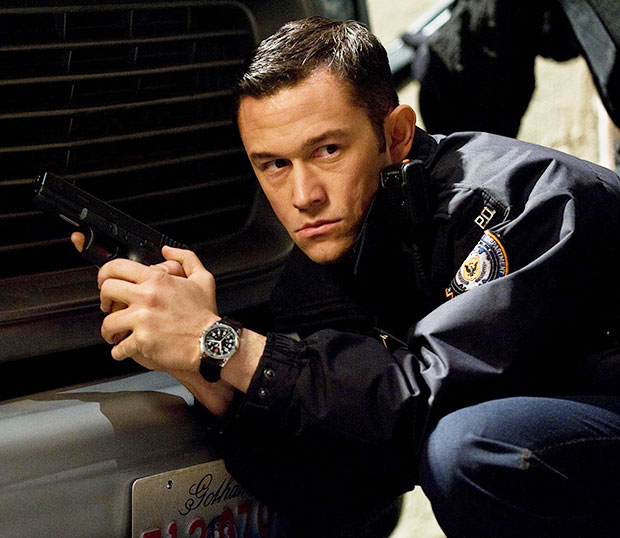 When Joseph Gordon-Levitt's John Blake stepped into the Batcave at the end of The Dark Knight Rises, the speculation began. Would Blake take over the cape and mask from Bruce Wayne, who was presumed dead (though actually off living the dream with Selina Kyle at a picturesque café in Europe)? Or was it a tease for fans along with a well-played metaphor for the character's legacy?
On Tuesday, rumors that Gordon-Levitt would step into the shoes of Batman in the upcoming Justice League movie picked up steam thanks to reports that Gordon-Levitt would establish his version of the character first in a cameo in Zack Snyder's Man of Steel. But Hollywood.com checked in with Gordon-Levitt's reps who have refuted the rumor entirely. For now, The Dark Knight Rises actor's continued involvement in the DC Movie Universe remains a fan dream.
But hey, we can dream, right?
From a continuity standpoint, this casting choice would make a lot of sense, and bridges the gap between Christopher Nolan's Batman trilogy (which bowed this summer with TDKR), Snyder's Superman reboot Man of Steel, and the upcoming DC Comics superhero roundup Justice League, which hits theaters in 2015. Justice League is going to be the Avengers of the DC Comics world, combining the skills and talents of Superman, Batman, The Flash, Green Lantern, and Wonder Woman into one film. And while the casting choices for the superheroes are still up in the air, the writing team may be locked down sooner than we think: Nolan is a producer on Snyder and Warner Bros.' Man of Steel, which may just be the introduction to the Justice League blockbuster. Talk about continuity.
But is Gordon-Levitt the right fit to take up the caped crusader's mission? In the past, the iconic cowl has been taken up by many actors, and some worked better than others…
The first full-length theatrical adaptation of Batman premiered in 1966 starring Adam West, who also portrayed a campy version of the superhero in the ABC series that ran from 1966 to 1968. West was never able to escape from under the shadow of Batman, however, and was severely typecast for the rest of his career.
The 1989 film Batman, directed by Tim Burton, starred Michael Keaton, who had previously made a name for himself as a comedic actor, causing controversy that he would not be able to shoulder such a serious role. The doubters were silenced when Batman grossed over $400 million, received positive reviews, and won an Academy Award for Best Art Direction. The 1992 sequel, Batman Returns, had generally positive reviews but earned less than its first installment.
1995's Batman Forever went in a new direction, with Val Kilmer as the titular hero. The film had mixed reviews, but was considered a box office success earning over $350 million worldwide and three Academy Award nominations. Filming for 1997's Batman and Robin began immediately following Batman Forever, but because of scheduling conflicts Kilmer did not reprise his role. George Clooney took up the caped crusader instead. The film remains to be the least-commercially successful Batman movie, and it is also widely considered to be the worst superhero film of all time.
Nolan's Batman trilogy took on a darker and more realistic view of the superhero. 2005's Batman Begins, 2008's The Dark Knight, and 2012's The Dark Knight Rises all showed Christian Bale's Batman as a relatable human who ages and could be broken, only to rise up and conquer fear. Nolan's trilogy is regarded as the best incarnation of Batman, and with Nolan attached to Man of Steel, we have high hopes that Justice League's Batman will exceed expectations, especially if Gordon Levitt wears the cape and mask.
Man of Steel flies into theaters June 14, 2013, and Justice League is planned to bow summer of 2015. Gordon-Levitt may not end up in either, but like Batman, casting rumors continue to lurk in the shadows.
Reporting by Matt Patches
Follow Sydney on Twitter @SydneyBucksbaum
[Photo Credit: Ron Phillips/Warner Bros.]
More:
'Man of Steel': Zack Snyder Hints at His Superman's 'Justice League' Future
'Justice League' Movie Planned for Summer 2015
Armie Hammer to the Rescue: Casting 'Justice League' with Real Life Superheroes

12 Hot (And Horrifying) TV Nude Scenes

Hollywood.com's Holiday Movie Guide: Best of the Season!