'Safe Haven' Star Josh Duhamel Says Channing Tatum Hazed Him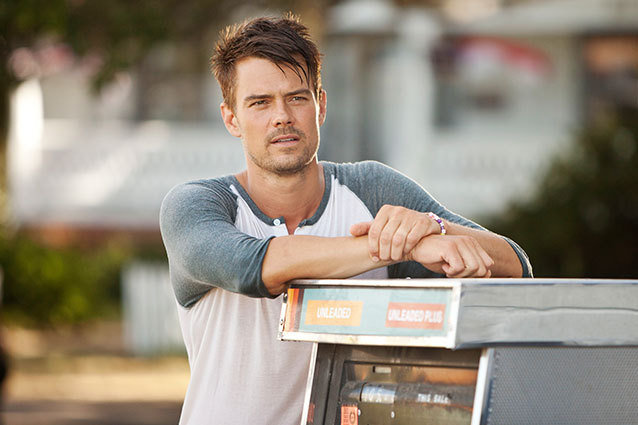 A peaceful Southern town. An epic love story. Danger, suspense, and intrigue? Safe Haven, the movie adaptation of Nicholas Sparks' latest novel, is a new twist on the author's classic love stories. But not to worry — there's still plenty of canoeing, lighthouses, and romance in the rain.
RELATED: Julianne Hough on Her Sexy 'Safe Haven' Kiss
Hollywood.com sat down with Duhamel to discuss his transformation into a Nicholas Sparks leading man (would you believe him if he told you that Ryan Gosling, Channing Tatum and Richard Gere hazed him?), building his on-screen relationship with Hough, and portraying a parent on screen.
"It was important for me to get to know these kids," explains Duhamel, who made sure to get some beach-themed hang-out time with Kirkland before filming started. "And to make them feel comfortable around me, and to be able to have fun and just be who these kids already were — on camera."
Safe Haven follows Katie (Julianne Hough), on the run from an abusive relationship when she crosses paths with Alex (Josh Duhamel), a widower with two adorable young children (Mimi Kirkland and Noah Lomax). They fall in love, but trouble soon catches up to them when Kevin (David Lyons), a mysterious man chasing Katie, arrives in town. Colbie Smulders also stars as Jo, Katie's new next door neighbor and friend.
Safe Haven hits theaters on Valentine's Day. Check out Hollywood.com's full interview with Josh Duhamel below:
Follow Jessica on Twitter @CourtemancheJ
[PHOTO CREDIT: Relativity Media]
---
From Our Partners: 

'Groundhog Day' Cast: Where Are They Now?

Bradley Cooper Dancing Is Surprisingly Awkward